Ex-minister wins political asylum in France
By Messenger Staff
Thursday, April 24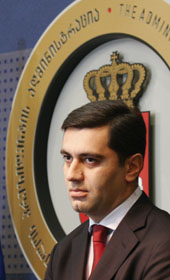 Ex-defense minister Irakli Okruashvili has won political asylum in France, his lawyers confirmed yesterday.
The one-time government insider turned opposition crusader faced an 11-year jail sentence in Georgia, where a Tbilisi court convicted him in March of extortion.
Tamuna Rukhadze, a member of the opposition party Okruashvili set up before his arrest, Movement for a United Georgia, said the decision to grant political asylum makes it clear there is political repression in Georgia.
"[The French decision] proved that the Georgian court was not objective toward Okruashvili, and that he really was a political prisoner," she told the Messenger.
Rukhadze said the ex-minister will continue to lead his party, now allied in the nine-party opposition coalition.
There was no immediate comment from Georgian prosecutors yesterday.
Maitre Lous-Marie, one of Okrauashvili's lawyers, told Agence French-Presse that the ex-minister still faces an extradition hearing on June 4, but that his status as a political refugee will "undoubtedly have an impact" on the ruling.
There has been just one other prominent political asylum case during the Saakashvili administration, when a former forestry department head fled embezzlement accusations in 2005. He received political asylum in Germany.
Okruashvili, a hawkish defense minister from 2004–2006 and close confidant of President Mikheil Saakashvili before being demoted to economy minister, unveiled a political opposition party on September 25, 2007 by unleashing a barrage of explosive accusations against the president.
In his first public comments since leaving the government in November 2006, Okruashvili excoriated the Saakashvili administration for alleged murders and corruption.
"The style of Saakashvili's governance, which has gone beyond all limits, has turned immorality, injustice, oppression…and murders into a way of life," Okruashvili declared last year at his party's headquarters. "I want to underline this—murder has become a common habit for the government."
In a television interview later that evening, the ex-minister claimed Saakashvili once ordered him to kill Georgian business tycoon Badri Patarkatsishvili, who died this February of apparent heart failure.
Okruashvili leveled a series of other grave allegations, including a cover-up in the 2004 death of late prime minister Zurab Zhvania, corruption involving the president's family and the failure of a detailed plan—vetoed at the last moment by Saakashvili—to take back the breakaway region of South Ossetia by force. He offered no evidence.
Okruashvili's bombshell announcement was prefaced by a string of corruption arrests, many targeting politicians thought to be loyal to the former minister.
Police arrested Okruashvili at his party headquarters two days after his dramatic return to politics.
His lawyer, Eka Beselia, said the arrest was "political retaliation" for his allegations against the president.
Influential ruling party figure Giga Bokeria, then an MP and now a deputy foreign minister, said Okruashvili's public tell-all was an attempt to spin his inevitable arrest as political persecution.
"It's not the political statements which were followed by the arrests," Bokeria said then. "On the contrary, these legitimate arrests and the fight against corruption led to the political statements, and some people's attempts to hide behind politics."
Okruashvili's arrest provoked an impromptu protest in Tbilisi the next day. It was the first time since the 2003 Rose Revolution that Georgia's fragmented opposition parties—many of which bitterly criticized Okruashvili while he was in government—managed to emphatically unite.
The strong turnout revealed a broiling discontent with the Saakashvili administration and kick-started a severe political confrontation which came to a head that November, when riot police violently dispersed anti-government protestors.
Okruashvili was charged with extortion, money laundering, negligence and abuse of power stemming from his time in office.
On March 28 this year, Tbilisi City Court found Okruashvili guilty on the extortion charge, sentencing him in absentia to 11 years' imprisonment.
This story was reported by Eter Tsotniashvili, Christina Tashkevich and Winston Featherly, and written by Winston Featherly.