Tbilisi awaits results of UN Security Council session on Abkhazia
By Alexander Ward
Thursday, April 24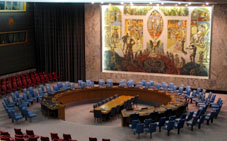 Tbilisi downplayed expectations of a UN Security Council meeting on the situation in Abkhazia yesterday, but emphasized that Georgia has international support for its objections to Russian action in the breakaway region.
The closed-door meeting, held late in the evening local time, was convened at the request of Georgian Ambassador to the UN Irakli Alasania following Tbilisi's claim that the Russian air force downed a Georgian surveillance drone over Abkhazia last weekend. Russian and separatist officials say Abkhaz forces shot down the unmanned Georgian aircraft.
Foreign Minister Davit Bakradze said that while Georgia was unlikely to receive formal support from the UN it was nevertheless important to show that Russia is isolated by international opinion on the issue.
Bakradze's comments were echoed by State Minister for Reintegration Issues Temur Iakobashvili, who said that while the meeting was not expected to produce tangible results, Georgia has "ultimate support" from foreign governments. He added that Georgia would produce evidence to prove its accusations against Russia.
A Russian Duma MP described Georgia's request for a UN Security Council meeting as "unfriendly," telling reporters that Russia would present evidence to show Tbilisi violated peace agreements by deploying military aircraft in the conflict zone.
At a National Security Council session yesterday, a Georgian Foreign Ministry official said Tbilisi, as well as offering its own radar evidence, will request that Russia hand over its radar data for assessment.
The Georgian air force has already released video footage that it says came from the downed spy drone. The video, filmed from a plane flying above a coastline, shows what Georgian officials say was a Russian MiG-29 destroying the filming aircraft.
In a statement broadcast yesterday, de facto president of Abkhazia Sergey Bagapsh suggested the video was faked with help from the US.
"We know Georgia has close ties with the United States, and the United States has Hollywood, where videos like this footage disseminated by Georgia are made," he said.
The Israeli newspaper
Haaretz
reported yesterday that Moscow has asked Jerusalem to confirm that the Georgian drone was Israeli-made.