Quartet of Georgian 'friends' call on Russia to reverse moves in Abkhazia
By Alexander Ward
Friday, April 25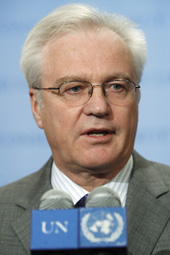 A joint statement of the US, UK, France and Germany called on Russia to "revoke or not implement" its recent decision to increase ties with de facto authorities in Georgia's breakaway regions.
It also says the four countries, which, along with Russia, are part of the UN secretary-general's Group of Friends of Georgia, "reaffirm their commitment to the sovereignty, independence and territorial integrity of Georgia."
Yesterday President Mikheil Saakashvili said that the statement marks the first time the Group of Friends has been divided, and that the international community had "questioned Russia's role as a mediator in the [resolution] process."
He added that Tbilisi planned to launch negotiations "over the expediency of further presence of the Russian peacekeeping contingent there."
State Minister for Reintegration Issues Temur Iakobashvili echoed Saakashvili, stating a "new stage in the conflict settlement process has begun."
"It is important what countries are making this statement…the US, Great Britain, Germany and France have considerable importance. They condemn Russia's actions," he said.
However, Russian ambassador to the UN Vitaly Churkin said the joint statement would not change Russia's decision.
"This is of course a tall order and I think that they [the UK, US, France and Germany] themselves understand that this is not something which is going to happen," he said.
NATO Secretary General's special envoy for the South Caucasus and Central Asia Robert Simmons, who is on a two-day trip to Tbilisi, commented that NATO was not ready to be involved in the peacekeeping format.
"I cannot say that NATO is looking for a direct role in peacekeeping or in dealing with conflicts in this region," the news agency Reuters quoted him as saying.
The statement came after a UN Security Council meeting on Abkhazia, following escalating tension in the region that spiked when Tbilisi accused Russia of shooting down an unmanned Georgian reconnaissance aircraft last weekend.
That incident followed Moscow's announcement that it would deepen and formalize ties with Georgia's secessionist regions, a move Tbilisi officials say amounts to annexation.