In midst of heated election campaign, president urges opposition to join him against Russia
By Shorena Labadze
Friday, April 25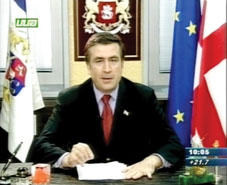 President Mikheil Saakashvili called on the opposition to stand united with his government in the face of Russian aggression, in a speech delivered from an April 23 session of the National Security Council.
On security issues, the president declared, "we are all united as Georgians."
"To ensure that remains the case, I will be in constant contact with the leaders of opposition parties to get the benefit of their insight and advice, and to insure that we all stand together in the face of this threat to our national unity. I don't ask that they agree with me on every point. But I do want to make sure they are fully included in our discussions," Saakashvili said.
But with less than a month before critical parliamentary elections, a skeptical opposition largely dismissed the gesture as meaningless.
Leaders of the nine-party opposition coalition characterized Saakashvili's exhortation to unity as a campaign move, while the moderate Republicans said they would meet with the prime minister or the parliamentary speaker to discuss national security, but not the president.
"We can't recall even one time when consultations with [Saakashvili] were profitable," leading Republican member Tina Khidasheli told reporters.
Giorgi Targamadze of the recently-formed Christian Democratic Party told journalists that he expects the entire political spectrum to be of one mind when it comes to external threats, but suggested that Saakashvili should show that he means to cooperate, not simply announce it.
But the leader of the moderate Industrials, Gogi Topadze, said he would be willing to meet with Saakashvili "out of concern for the country's welfare."
Saakashvili convened the National Security Council after the Georgian government claimed, with video footage as evidence, that a Russian fighter jet shot down an unmanned Georgian surveillance plane over the breakaway region of Abkhazia.
That incident followed closely Russia's announcement that it would deepen and legalize ties with separatist Abkhazia and South Ossetia, a move Georgian officials say amounts to annexation.