Television stations, accused of pro-government bias, restart opposition coverage
By Shorena Labadze
Tuesday, April 29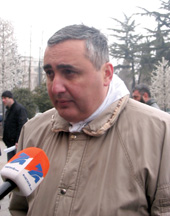 The country's leading television stations are once again airing campaign coverage of the nine-party opposition coalition, after a mutual boycott just weeks before the May parliamentary elections.
Rustavi 2 announced the end of the boycott on April 25, saying that while its journalists are still being harassed by opposition coalition members, out of responsibility to its audience the station would resume coverage of the country's leading opposition force.
"Despite the fact that they didn't stretch out a hand to us for reconciliation, we are ready to stop the boycott—which was caused by their fault. We made concessions to restart working with them," a spokesperson for the television station Mze told the paper. Rustavi 2 spokespeople declined to comment.
Mze and Rustavi 2 are both jointly-owned by Georgian Industrial Group and GeoMedia Group; the former was co-founded by ruling party MP Davit Bezhuashvili. Opposition politicians allege that both stations favor the government, and held their own boycott in the past.
But opposition politicians now say they will talk to anyone.
"I want to declare that our door is open to any journalist, any media access, any TV company, no matter whether they are aggressive or loyal toward us," said New Rights leader and opposition coalition member Davit Gamkrelidze.
Rocky relations between the opposition coalition and the two channels date back to last winter, when Levan Gachechiladze, then running for president with coalition backing, repeatedly confronted Rustavi 2 and Mze reporters with accusations of bias.
The coalition began a boycott of both stations in March.
Kakha Kukava, a Conservative MP and an opposition coalition leader, said his allies would refuse to speak with Rustavi 2 and Mze TV unless their comments were aired live. He accused both channels of serving the government and selectively editing opposition politicians' comments.
Shortly after that boycott began, a Rustavi 2 journalist, reporting live from an opposition protest outside parliament, was shoved by a demonstrator while others in the crowd hurled verbal abuse at her news team.
As the journalist was pushed about, a Rustavi 2 anchor read a pre-written statement alleging a previous assault on a Mze TV journalist and condemning the opposition's boycott as "categorically unacceptable."
Gachechiladze was unapologetic. Speaking at a party convention a few days later, he said the aggression was justified. "These people [at Rustavi 2 and Mze TV] aren't journalists and cameramen," Gachechiladze said. "These people are thieves, and when you're dealing with thieves, it's good to deal them a smack or two."
The two stations, while not explicitly announcing a retaliatory boycott, gave no coverage to opposition coalition activities the incident.
Last week, Mze began airing a coalition advertisement urging watchers to change the station to the state broadcaster or pro-opposition local station Kavkasia.
Kukava, the Conservative leader, said the coalition would pull the ad if the stations restart coverage of their events.
As of yesterday, the boycott was off: Rustavi 2 aired a report on coalition member Jondi Baghaturia's election campaigning in the town of Kazbegi.