Tensions rise as Russia sends more peacekeepers to Georgian separatist region
By Winston Featherly
Wednesday, April 30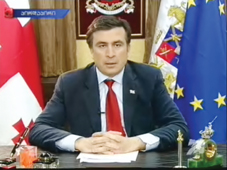 Georgian President Mikheil Saakashvili said his country is committed to peace but threatened by Russia, in a speech delivered yesterday after Moscow announced it would deploy more peacekeepers to a Georgian separatist region in response to an alleged Georgian military build-up.
Tbilisi, which sees the Russian-led CIS peacekeepers as a potential threat, branded the move aggressive, with a top MP saying Russian plans "military intervention into Georgia."
Saakashvili, addressing ethnic Abkhaz and Ossetians in a televised address following a National Security Council session, urged residents of the country's two breakaway regions to rejoin Georgia in the search for economic prosperity, promising jobs, development and state protection for ethnic minorities.
The president described the Abkhazian and South Ossetian separatist administrations as oppressive criminal regimes, and accused outside forces—Russia, unnamed—of dashing hopes for peace.
"The more we speak about peace, the more this force speaks about war," he said. "We speak about the free economic zone, they speak about new military bases."
Saakashvili urged Abkhaz and Ossetians not to let others disingenuously represent them, and to side with Georgia rather than be manipulated into fighting.
"There is a moment when you have to take a decision for the future."
Accusations of moving to war footing, threats of reprisals
While UN observers said on April 21 they saw no evidence of a troop buildup, all sides have traded accusations of amassed forces along the administrative border with separatist Abkhazia.
Yesterday, Moscow alleged that Georgia violated a ceasefire agreement by reinforcing troops in upper Kodori Gorge—the only part of Abkhazia under Georgian state control—and by flying reconnaissance missions over the secessionist region.
"The Georgian leadership's policies are aimed not at peaceful conflict resolution, but destabilization, militarization and increases in weaponry and Georgian troops on the borders of Abkhazia and South Ossetia," read a Russian Defense Ministry statement.
Russia said it will deploy more peacekeepers, within the 3 000-strong limit set by a 1994 agreement, and set up more checkpoints. Any Georgian use of force in the region will meet a "strong response," the Russian statement warned.
Increasing Russian peacekeepers to cause 'extreme instability'
In turn, Georgian Prime Minister Lado Gurgenidze said Tbilisi did not consent to an increase in Russian peacekeepers, and that any extra Russian presence would amount to illegal aggression.
"We think this step [to increase peacekeeper levels] will cause extreme instability in the region. Therefore, we will now consider every soldier or military equipment coming in, including these 3 000 soldiers, as illegal, potential aggressors and possible sources of destabilization," Gurgenidze told reporters.
Georgian officials also denied any build-up of forces in Kodori Gorge. Tbilisi has maintained that only police units—allowed by the ceasefire agreement—are in upper Kodori Gorge, where the Georgian government has installed an Abkhazian government-in-exile.
The chair of the parliamentary defense and security committee, Givi Targamadze, warned that Russia is preparing "military intervention into Georgia" and said the government would appeal to the international community.
"We know very well this Russian tactic: first MPs make statements, then the executive branch, then the statements are followed by action," he told reporters.
Georgia has strongly condemned recent Russian actions in separatist Abkhazia, which earlier this month included lifting trade sanctions and formalizing ties with the separatist administration there.
Tbilisi also claims that on April 20 a Russian fighter jet downed an unmanned Georgian spy plane over Abkhazia. Russia says video footage of the alleged air attack was faked.