NATO 'watching carefully' as Russian FM defends peacekeeper reinforcement
By Messenger Staff
Thursday, May 1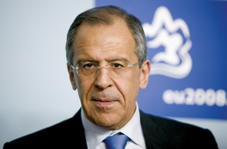 The international community has expressed concern at Russia's decision to increase its peacekeeping presence in Abkhazia, as Tbilisi branded it a "continuation of Soviet diplomacy."
On April 29 Moscow said it will deploy more peacekeepers, within the 3 000-strong limit set by a 1994 agreement, and set up more checkpoints in the breakaway region, in response to an alleged military build-up by Georgia.
"If we want to diminish the perception of tensions, I don't think it is a wise measure to increase [the Russian peacekeeping contingent in Abkhazia] now," EU foreign policy chief Javier Solana said on April 29, according to Reuters.
He was speaking in Luxembourg after meeting with Russian Foreign Minister Sergey Lavrov, who defended Moscow's move by saying that the final number of Russian troops in Abkhazia would be in line with existing treaties.
Lavrov declared that Russia "does not intend to wage war," adding that he handed Solana documents which "in our opinion, show that the Georgian leadership may harbor plans to use force to resolve the Abkhazia problem."
Yesterday, Georgian acting foreign minister Davit Bakradze described Russia's actions as a "continuation of Soviet diplomacy," before meeting with Solana.
He added that this "implies executing military interventions into neighboring states with the help of documents like those," in reference to the evidence Lavrov said he had taken to Luxembourg.
The same day NATO spokesman James Appathurai said the alliance was "obviously watching very carefully the situation in Georgia and the region."
He added that the steps Russia has taken in connection with Abkhazia "have increased tensions and have undermined the Georgia's territorial integrity."
In Tbilisi, Parliamentary Speaker Nino Burjanadze expressed regret that Russia had taken a confrontational course.
"What Russia is doing there [in Abkhazia] now cannot be explained logically. Russia is challenging not only Georgia, but the entire international community," online news source Civil.ge quoted her saying.
De facto Abkhaz foreign minister Sergey Shamba echoed Lavrov's comments that the increase in Russian troops in the conflict zone would be in line with existing agreements.
"This will not be a violation of any agreements. Moreover, this is in line with decisions made previously," Shamba said yesterday. He also expressed hope that the increased peacekeeping contingent would act as "additional factor of stability."
Georgia has strongly condemned recent Russian actions in separatist Abkhazia, which earlier this month included lifting trade sanctions and formalizing ties with its separatist administration.
Tbilisi also claims that on April 20 a Russian fighter jet downed an unmanned Georgian spy plane over Abkhazia. Russia says video footage of the alleged air attack was faked.
Eter Tsotniashvili contributed to this article.