Opposition want crackdown on alleged political pressure
By Shorena Labadze
Thursday, May 1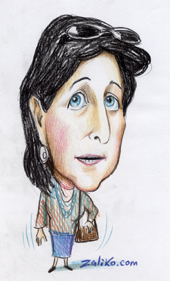 The nine-party opposition coalition says the government must meet three demands, including a crackdown on political intimidation, if Georgia is to run a fair parliamentary election this month.
Kakha Kukava and Salome Zourabichvili, two leaders of the opposition coalition, levelled accusations of widespread intimidation against their campaigners after a meeting with the National Democratic Institute for International Affairs on April 29.
"Our officials still have the chance to correct their mistakes by letting all candidates, whether opposition or government, have equal chances and conditions [in the elections]," Kukava said. "The government constantly repeats that their main priority is holding transparent elections. If that's really the case, we're offering them more ways to do it. We suggest the ruling party making critical and crucial changes in the process."
The coalition demands punishments for policemen they say have exerted political pressure on opposition campaigners.
"We demand a monitoring of police, who even now are pressuring activists, opposition [parliamentary] candidates and their families," Zourabichvili said, adding that they would present their complaints to international agencies.
Kukava said the alleged intimidation is designed to force candidates out of the May 21 elections.
He named an example in the eastern village of Akhmeta, where an opposition coalition candidate withdrew his application to run the same day he filed it, after his family members were called into a police station.
Kukava alleged similar incidents of intimidation in three other districts.
A spokesperson for the Prosecutor General's Office said no official complaints have been lodged.
Interior Ministry spokesman Shota Utiashvili says his ministry has not been requested to act yet, but will be ready to start an investigation.
The opposition leaders also again called for the dismissal of Central Election Commission chairman Levan Tarkhnishvili, who they accuse of culpability in allegedly rigging the presidential election in January.
"We demand Tarkhnishvili be dismissed right now, and someone appointed who will be neutral, and selected with consensus [between the opposition and government]," Kukava said.
A Central Election Commission spokesperson said Tarkhnishvili will not leave his post.
International observers said the January 5 election was broadly democratic, but with significant irregularities.
The opposition also demanded an extra week to check the roll of voters for errors and fraud. Coalition members suggested the list is inflated.
The Central Election Commission's spokesperson says the voters lists are available for public perusal, and are being updated and expanded with new names from other government agencies.