First OSCE pre-election report cites campaign concerns
By Messenger Staff
Friday, May 2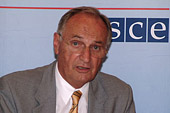 The country is "highly polarised" approaching the May 21 parliamentary elections, said the top foreign election monitoring team in Georgia in its first pre-election report.
The report said the new electoral system, which will elect half of parliament through individual districts, "undermines the equality of the vote" because of vast population differences in each district.
It also criticized the amendments to the system, some made in March, as done late and without consensus, and said new election law relax restrictions on public officials using administrative resources to campaign.
The OSCE's report, which covered the period from April 10–25, drew attention to an incident at the Central Election Commission (CEC) overnight on April 21–22, saying that the CEC's efforts to improve transparency were "undermined" by the events.
That day, at the 6 p.m. deadline for submitting parties' lists of candidates, Speaker of Parliament Nino Burjanadze—who was the top name on the ruling part's list of candidates—announced she would not stand for reelection.
The opposition rushed to the CEC, suspecting the ruling party would try to rewrite their list of candidates after the passed deadline.
Opposition-appointed CEC members were denied access to the ruling party's list by the CEC chairman, according to the OSCE report, who said the list was locked in a room and would be available the next day.
The list was eventually produced after a delay of over four hours, and not from the room the CEC chair said it was in.
Leading opposition politicians have since repeated calls for the CEC chair's dismissal.
"These events were characterized by lack of transparency," the report read.
The OSCE's report also looked at television news coverage of the campaign, finding far more positive coverage from the state-owned public broadcaster for the ruling party than for the main opposition coalition.
Leading television stations Rustavi 2 and Mze were not showing coverage of the coalition's campaign in the period the report covers.
"The political environment remains highly polarised. Opposition politicians express deep mistrust of the state authorities, doubts about the impartiality of the election administration, and a lack of confidence in the fairness of the electoral process," the report warned.