Women's issues NGOs rally for female MPs
By Shorena Labadze
Friday, May 2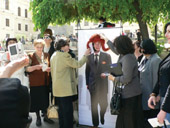 A coalition of women's NGOs rallied outside Public School No. 1 on Rustaveli Avenue yesterday, in support of women candidate in the upcoming parliamentary elections.
"The aim of the rally is to call on society to support women no matter what their political trend. Through this we will let the women participate in decision making process," coalition member Ketevan Dadunashvili said.
She added that it is "worrisome" that while women make up 53 percent of the population, they only account for nine percent of parliamentary seats.
Another coalition member, Tamar Abramishvili, said current women MPs are restrained by the male-dominated environment in parliament.
"They have to play by the rules set, and deeply rooted, by men who make up a majority in parliament," she said.
The coalition has taken a bill in the parliament requesting law amendment in favor of women candidates in the parliamentary election.
"We have gathered 32 000 signatures demanding a legislative change that would require parties to nominate as many female candidates as male," representative of the Gender Media Caucasus organization Galina Petriashvili told the paper.
Georgian women politicians have conflicting opinions.
"Generally women are stronger, braver and strict in their decisions. They must surely be involved in decision making processes," Tina Khidasheli of the Republicans said.
But Eka Beselia of the Movement for a United Georgia, who is running for a majoritarian seat, said that gender should be a secondary concern.
"For me, it is most important that there are professional and capable people in parliament. First I evaluate people according their useful activities, before considering their sex."
However, she added, that in must be considered that "generally women are stronger, firmer, more principled and devoted to their work than the opposite sex," Beselia added.
Irina Sarishvili, leader of the Imedi Party, said it should not be an issue.
"Women and men should be counted in the bedroom and not in parliament. I absolutely don't care how many men and women MPs there are," she told the Messenger.
Meanwhile ruling party MP Davit Kirkitadze, a man, said the key value any MP, male or female, should bring to parliament is patriotism.
"I don't think that this is much of an issue. We have a quite a few women in our party, but the priority of any parliamentarian has to be defending the country's interests whether they are a man or woman," he told the paper.