A toothless Imedi returns to the air
By Eter Tsotniashvili
Tuesday, May 6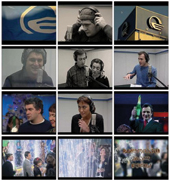 The embattled Imedi television station, once the country's leading broadcaster, restarted broadcasts yesterday with movies and dubbed South American soap operas.
Imedi director general Bidzina Baratashvili said the station will not broadcast news until next month, blaming damaged equipment and financial problems.
"There will no news or morning programs on Imedi for a month. The TV station's equipment…is too damaged. We also have debts to pay step-by-step, which we will be able to pay off soon with advertising [revenue]," Baratashvili told reporters yesterday.
After being raided and ransacked by government troops in November, Imedi TV briefly restarted news broadcasts in December before suspending broadcasts in the wake of a scandal involving its founder.
"Resuming broadcasts in December was a small miracle, accomplished by technicians who managed to return Imedi to the air for a little while," Baratashvili told the Messenger. "We were expecting our insurance company to compensate damages suffered so we could buy new equipment."
The insurance company, GPI Holding, has not paid out any of the USD 1.2 million Imedi TV is requesting to cover its damaged facilities. Baratashvili suggested the television station would go to court over the sum.
A spokeswoman for GPI Holding, Tina Stambolishvili, said the company received an official request for compensation only on April 24, and has not had time to prepare an assessment.
"GPI Holding is acting according to the contract and strictly [follows] existing procedures," Stambolishvili said.
Baratashvili said news coverage will resume in June after the station hires new staff. He told the newspaper that about 100 employees have left the channel since it was first forced off-air.
A full schedule, with talk shows and other entertainment programs, will start in September with the fall season.
Baratashvili denied suggestions that Imedi, once known for its pro-oppositional bent, is purposefully holding off on news broadcasts until the May 21 parliamentary elections.
"Yes, it's true we will resume our news programs after the elections, but this has completely different reasons [than politics]: technical and financial," he said.
Imedi TV was forced off-air as riot police cracked down on anti-government protestors on November 7, 2007.
The government later allowed it to resume broadcasts in the face of heavy international pressure, but the station voluntarily suspended operations on December 26 after authorities accused its founder, the late billionaire Badri Patarkatsishvili, of plotting to overthrow the state.
Patarkatsishvili financed a political opposition campaign and ran for president after falling out with the Saakashvili administration. He collapsed and died on February 12 at his mansion outside London, with British doctors suggesting heart disease was to blame.
Imedi's ownership has since been in dispute. A distant relative of Patarkatsishvili calling himself Joseph Kay has claimed management rights for Patarkatsishvili's assets, and is now acting as Imedi TV's owner.
The late billionaire's family says they will contest the claim in court.