New foreign minister appointed
By Temur Kiguradze
Tuesday, May 6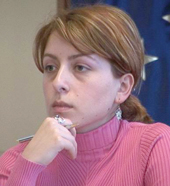 Eka Tkeshelashvili will be Georgia's new foreign affairs minister, government officials confirmed yesterday. The 30-year-old Tkeshelashvili, who was serving as prosecutor general, replaces Davit Bakradze.
Bakradze left his position at the end of last month to campaign for the parliamentary election. He is the top name on the ruling party's slate of candidates for the May 21 elections.
"Tkeshelashvili will have to work in a very tense and active period for Georgian foreign policy. She will have to respond to and neutralize many challenges," Prime Minister Lado Gurgenidze told television station Rustavi 2, adding that the new minister is "a fighter" with the ability to work efficiently.
The prime minister said Tkeshelashvili would be involved in crafting foreign policy from the first minutes of her appointment.
Tkeshelashvili was born in Tbilisi, and graduated from Tbilisi State University's international relations faculty before obtaining a law degree in the US at Notre Dame in 2001.
She has previously worked in the Foreign Affairs Ministry as a foreign policy analyst.
After the 2003 Rose Revolution, she joined the government as deputy minister before heading the Tbilisi Court of Appeals. Last summer, she was appointed Justice Minister; this January, she moved to the prosecutor general's post.
"A person with such a fast and successful career ought to be successful at this new position too," political pundit Ramaz Sakvarelidze commented on Tkeshelashvili's appointment.
But another political analyst, Gia Khukhashvili, said the appointment is a step backwards for the Georgian government.
"[Former foreign minister Gela] Bezhuashvili was quite a good minister, Bakradze was weaker but he still had some experience, but with Tkeshelashvili's appointment the Georgian government finally becomes odious," he said.
Tkeshelashvili will be the country's second female foreign minister. French-born Salome Zourabichvili was the first, holding the post in 2004–2005 before leaving the government to form an opposition party.
Tkeshelashvili will also be the country's youngest foreign minister.
Prime Minister Gurgenidze said he would officially welcome Tkeshelashvili to her new post at a government session today.
The government has not yet announced her replacement as prosecutor general.