Minister: Georgia and Russia 'very close' to war
By Temur Kiguradze
Wednesday, May 7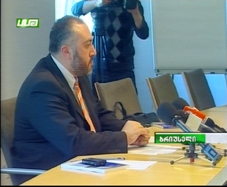 Georgia's top official for conflict issues said yesterday that Russia and Georgia are "very close" to war.
"We literally have to avert war," State Minister for Reintegration Issues Temur Iakobashvili told reporters in Brussels. "We know what the signals are when you see propaganda waged against Georgia. We see Russian troops entering our territories on the basis of false information."
His tocsin was echoed by Russia's envoy to NATO, Dmitry Rogozin, who told Russian news agency RIA-Novosti that "Georgia is indeed very close to a war, but this is Georgia's own fault." Rogozin said the Georgian state minister's visit to Brussels was part of a Georgian plan to pin blame for conflict escalation on Russia.
Iakobashvili was meeting with EU ambassadors to seek political support in the confrontation with Russia and discuss ramping up Europe's role in the Georgian-Abkhaz conflict, including using EU forces for border patrol and policing operations.
Iakobashvili told Georgian reporters no decisions were made on an EU peacekeeping contribution, but that he hoped the European Parliament's foreign policy committee would produce a strongly-worded resolution against Russia.
Georgia has sought for international forces to replace the Russian-led CIS peacekeeping force in Abkhazia. Tbilisi says that far from being a mediator, the presence of Russian troops is a means to annex the breakaway region.
Remarks from a top Abkhaz official made it clear the separatist administration would welcome a greater Russian presence.
The de facto Abkhaz foreign minister, Sergey Shamba, accused Georgia of intending to spoil the 2014 Winter Olympics in Sochi, a resort town just north of Abkhazia, with "military blackmail"—volatility in the vicinity of the Games—in an interview with the Russian newspaper Izvestia published yesterday.
Abkhazia is ready to submit itself to Russian "military control" in exchange for security guarantees, he was quoted as saying.
Russian Foreign Minister Sergey Lavrov told reporters that putting Abkhazia under Russian military control was not under consideration.
In a later interview, Shamba said his remarks were misinterpreted and actually referred to military cooperation, including the opening of Russian military bases in Abkhazia.
Shamba drew comparisons between a United States pledge to defend Taiwan and a possible Russian-Abkhazian agreement.
Relations between Georgia and Russia teeter on an edge after Moscow said last month it would formalize ties with breakaway Abkhazia and reinforce its peacekeeping contingent there.
Also in the last month, Abkhaz separatist forces have repeatedly claimed to have shot down unmanned Georgian surveillance planes. Separatist officials say they have destroyed four drones altogether with surface-to-air weapons systems.
The Georgian government has confirmed only one lost plane, which they say a Russian MiG-29 destroyed over Abkhazia.