In Adjara to commemorate ousting of dictator, Saakashvili calls for clean elections
By Eter Tsotniashvili
Tuesday, May 6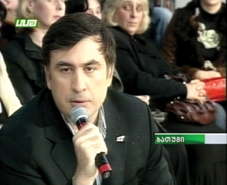 The president said Georgia is at a "crucial stage" and must have clean elections during a speech in Adjara yesterday, as the autonomous republic celebrated the anniversary of its own Rose Revolution.
Four years ago on May 6, President Mikheil Saakashvili announced the start of a new era as Adjaran dictator Aslan Abashidze fled the region for Moscow.
"Georgians, Aslan has run away. Adjara is free!" he said in 2004, branding it the beginning of Georgia's reunification.
Propped up by his own militia, Abashidze had ruled the coastal region as a personal fiefdom, refusing to transfer taxes to the central authorities.
His departure came as thousands of demonstrators demanded his resignation on the streets of Batumi, the regional capital, while former Russian foreign minister Igor Ivanov helped mediate with Tbilisi.
Yesterday Tbilisi Mayor Gigi Ugulava said the victory achieved by bringing Adjara back into the fold could only be trumped by returning another of Georgia's independently-minded regions.
"When I remember the events of May 2004 I have a great feeling. Only the feeling of returning Abkhazia would be greater!" he told television station Rustavi 2.
President Saakashvili marked the anniversary by opening a new trade center in Batumi which will employ some 200 people, while locals reflected on how they have benefited from being back under Tbilisi's control.
"A lot has changed over these four years," says Irakli Chavleishvili, a 22-year-old sailor who lives in Batumi. "I used to not be able to leave my car in the street in case it got stolen. Today I don't even lock it."
The Adjaran tourism department claims the region has enjoyed a tourist boom, receiving over 350 000 visitors in 2007 compared to 20 000 in 2003.
"I have many foreign friends and every year they visit me in Batumi. They're crazy about this city," says Temo Dolidze, 24, a bank worker.
"What has changed? Everything!" he adds. "We have new entertainment centers, new jobs and good salaries."
Despite the celebratory nature of the occasion yesterday, Saakashvili took the opportunity to comment on recent allegations that a government MP was threatening to fire state workers if they didn't vote for the ruling party.
"All those who hamper [free elections] will be held responsible," the president declared, adding that free elections are a matter of "national security." He alluded to Russia's recent moves to increase its involvement in breakaway Abkhazia.
"Georgia is at a crucial stage. An assault is being made on our values, our liberty, our democracy and our right to choose. It's no coincidence this provocation…comes at the same time as the elections campaign. I call on all of you: we must hold exemplary parliamentary elections."