Russia's Medvedev met with skepticism in Georgia
By Temur Kiguradze
Thursday, May 8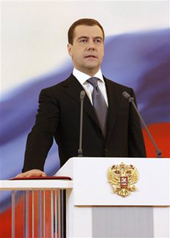 Russia's new president, Dmitry Medvedev, took his presidential oath yesterday, hours before saying he would choose his patron Vladimir Putin as the country's prime minister.
With former president Putin's backing, Medvedev won 70 percent of the vote in a March presidential election.
Georgia had no representative at the ceremony. A Foreign Ministry spokesperson said no one was sent because the ministry did not receive an official invitation.
"We hope that relations with Russia will change now," said Deputy Foreign Minister Giga Bokeria at a briefing yesterday.
Bokeria said Georgia is "always ready" for negotiations with Russia, and is able to make any kind of compromises "with the exception of affairs connected with Georgian sovereignty and territorial integrity."
Opposition politicians, vying for control of parliament in this month's elections, largely hold the same view but say they would fare better in leading the country in talks with Russia.
"The aggressive policy against Georgia will remain the same with the new president," said moderate Republican leader Davit Berdzenishvili.
Manana Nachkebia, a member of the nine-party opposition coalition, agreed.
"Of course relations will stay the same, the aggression will continue," Nachkebia said. She considers said it was "unpleasant but logical" that Georgia would not send anyone to the inauguration.
Berdzenishvili, the Republican leader, said Georgian-Russian relations depend on the May 21 parliamentary elections at home, which the opposition say they fear will be unfair.
"Only a democratically-elected government will be able to resist the aggression," he told the newspaper.
Independent political analyst Ramaz Sakvarelidze suggested that by "voting for Medvedev, Russia factually prolonged Putin's governing for four more years."
Sakvarelidze speculated that Russia could one day see a confrontation between internal force structures headed by Putin and Medvedev, weakening their country.
"That [would be] beneficial for us," he said.
The separatist Abkhaz foreign minister, Sergey Shamba, greeted the inauguration of Russia's new president by hoping he would continue Putin's policy with the "development of Russian-Abkhazian relations on the highest level."
The new Russian president, at 42, is the youngest head of state for modern Russia, according to his official website. Born in St Petersburg (then Leningrad) in 1965, he studied law and was chairman of state energy company Gazprom before becoming a deputy prime minister.
Putin announced in December he would back Medvedev as his successor.