Saakashvili appeals for EU support in Russia standoff
By Temur Kiguradze
Tuesday, May 13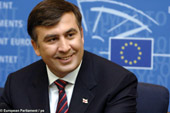 President Mikheil Saakashvili appealed for European Union support in the standoff between Georgia and Russia, speaking yesterday with a delegation of foreign ministers from EU countries.
Foreign ministers from Latvia, Lithuania, Poland, Slovenia and Sweden were on a one-day visit to Georgia yesterday in a show of support after escalating tension between Tbilisi and Moscow.
Swedish minister Carl Bildt said the delegation intended to "express [its] solidarity with Georgia as to the territorial integrity of Georgia."
Moscow outraged Tbilisi last month when it moved to increase ties with separatist authorities in Georgia's breakaway regions, before bolstering its peacekeeping contingent in Abkhazia. Tbilisi has also accused the Russian air force of shooting down one of its unmanned surveillance drones.
Yesterday Saakashvili urged the EU to conduct a formal investigation into the drone incident, as well as to react to the "illegal movement of Russian peacekeeping forces."
Describing Russia's moves as a "prelude to [an] act of occupation," he compared the current situation to 1921, when the Russian Red Army invaded Georgia.
"Europe left us alone that time. Europe didn't even speak out."
"Europe has not faced such a big challenge since the end of the Cold War," the president added.
Four of the visiting foreign ministers agreed over the weekend that Lithuania will lift its veto on talks with Russia on an EU-Moscow accord.
The Lithuanian government was blocking the talks and demanding, among other things, that Moscow improve relations with Georgia. The ministers agreed the talks will now deal with that issue.
The EU has stated that it is "seriously concerned" over the situation between Russia and Georgia. On May 8–9 a troika of EU officials visited Tbilisi amid the growing tension.
The foreign ministers on yesterday's trip represented their respective governments, not the EU.