Top opposition block puts anti-government rhetoric front and cente
By Eter Tsotniashvili
Tuesday, May 13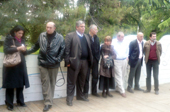 The nine-party opposition coalition barnstormed through the eastern province of Kakheti last week, introducing local candidates for parliament to voters.
Like much of the opposition coalition's campaign, the events focused more on fortifying supporters than winning over undecided voters. And as in the winter's presidential campaign, the coalition's rhetoric was that of fierce opposition to the government.
In Kakheti's regional capital of Telavi, the opposition coalition staged an event for the MP they nominated as a candidate for the district.
As campaigners met with supporters at the local university, a handful of activists from the ruling National Movement party stormed the hall with Georgian flags.
With a smile, prominent opposition leader Levan Gachechiladze, dressed in a black hooded sweatshirt and knit cap, plucked a red rose from a convenient vase and handed it to one of the young activists.
The youths said they were there, as local voters, to listen to the opposition campaign.
"We are locals from the National Movement, and came to see these people. We don't know who they are or what they want," said a 22-year-old ruling party supporter, before alluding to the culmination of the 2003 Rose Revolution, when Mikheil Saakashvili—now the president—clutched a rose as he led protestors into parliament. Inside, he sipped from departing president Eduard Shevardnadze's tea.
"[Gachechiladze] gave me a rose—I would drink his tea but unfortunately there is no tea here for him."
The antagonism was mostly in good humor, but some of the rhetoric was tense. Pikria Chikhradze, the coalition's candidate for the district, used the opportunity to talk about what she says is widespread political intimidation.
"Some adults came in here thinking they could scare someone, but I want to say you that neither you nor [Interior Minister Vano] Merabishvili the killer, or Saakashvili or others can scare us or our people," Chikhrazde told the activists.
"I have lots of friends and relatives in Telavi which I avoid contacting, and which avoid talking to me. I avoid them because I don't want to put them in a difficult situation, and they avoid me so they don't have any problems with their jobs and families," she said.
The nine-party opposition coalition's goal, she said, was to end injustice and fear in Georgia.
In the nearby town of Gurjaani, a few hundred gathered to see opposition candidate Zaza Abashidze, the son of a famous actor and former head of the national library.
Gachechiladze, the leading coalition member, praised Abashidze as a patriot and said he personally persuaded him to run.
"I really was strongly against competing in the elections," Abashidze said, "but I changed my mind after realizing that my country is in real danger and very poor condition."
While the coalition's prevailing message, visible on campaign leaflets and television ads, is ridding Georgia of what the opposition say is an oppressive and violent regime, some supporters were more encouraged by what they thought the coalition could do for living conditions.
"I really believe [Abashidze] and the whole team [when they say] that after they win parliament, our living conditions will change radically," 44-year-old Guliko Janiashvili, a local supporter, said.
She said, like many of her neighbors, that unemployment is what concerns her the most. She has never had a job, despite a university degree.
Leaders of the opposition coalition are now campaigning in western Georgia, with just over a week left until the elections.