Dead billionaire's family claims win in suit against self-declared heir
By Shorena Labadze
Wednesday, May 14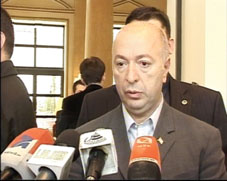 The family of late Georgian billionaire Badri Patarkatsishvili says it won a court case in the United States against the man claiming ownership rights to Patarkatsishvili's assets.
A press release in the name of Patarkatsishvili's widow, Ina Gudavadze, claimed the family had won a case in New York against Soso Kakiashvili, who calls himself Joseph Kay.
Kay has taken control of Patarkatsishvili's businesses in Georgia, including his flagship Imedi TV.
Kay admitted in court he had no legal right to manage Patarkatsishvili's assets, the press release asserted.
But in an interview aired earlier this month, Kay said Patarkatsishvili, a distant relative, left him full legal rights to manage the billionaire's assets.
"If you had known Badri and the relationships we had with each other, it would obvious why he chose exactly me as a holder of his property. He never ever involved his family in business arrangements," Kay told television channel Russia Today.
Kay said he had documents proving the claim.
"The New York court's decision asserted that Kay's statements about owning Patarkatsishvili's assets were simply a lie. He didn't contradict the court order either," said Lasha Birkaia, a member of the family's legal team.
"The family warns everybody that anyone in touch with Joseph Kay must know that this person has nothing to do with Patarkatsishvili's assets. We'll make a complaint in future if he continues playing such games with other people, and any such agreement will be abolished by the court process and the family will be paid damages."
"This fact simply proved again that Kay is a swindler," said Davit Shukakidze, a former aide to Patarkatsishvili and a close family friend.
The director general of Imedi TV said Kay is out of the country and will comment when he returns in several days.
The government raided and ransacked Imedi TV during the crackdown on anti-government protests on November 7, 2007.
It later reopened, but voluntarily suspended broadcasts at the end of December when Patarkatsishvili, a billionaire who ran against incumbent Mikheil Saakashvili for president, was accused of plotting to overthrow the state.
Patarkatsishvili died of an apparent heart attack at his English mansion in February.