Last pro-opposition TV channel goes off-air
By Temur Kiguradze
Thursday, May 15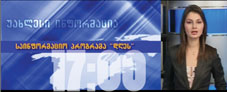 Georgia's most prominent remaining pro-opposition television station blinked off the air yesterday, succumbing to apparent technical problems.
Kavkasia TV's transmitter on the Mtatsminda television tower was damaged, said news director Nino Jangirashvili. The backup transmitter was also broken.
"We're not speculating on what happened yet—our only goal is to restore broadcasts as soon as possible," Jangirashvili said.
After the government raided and shuttered pro-opposition Imedi TV in November, the local Kavkasia, a shoestring operation, became the sole television station giving heavy airtime to opposition politicians, including extensive live interviews in evening prime time hours.
Georgian newspaper Kviris Palitra rated Kavkasia the third-most watched Georgian station at the start of this year, despite broadcasting only in Tbilisi. The same research put the channel in seventh place last year.
"If broadcasting is not restored by election day [on May 21], it would be a huge blow to the opposition," commented media analyst John Horan.
The same thing happened in 2003, according to station owner Davit Akubardia, and was blamed on a short circuit.
A replacement for the damaged equipment should reach Tbilisi tomorrow, with broadcasting scheduled to restart in two or three days.
"We've purchased two replacements for the broken item, and if something happens to them too, that's when we'll start to speculate," says Akubardia.