'International crisis' over Abkhazia
By Winston Featherly
Thursday, May 15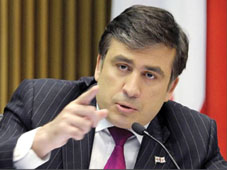 While tensions around its breakaway regions may have slackened since last week, Georgia's president says the country is still facing down an "international crisis."
President Mikheil Saakashvili made the comments yesterday before leaving for Israel, where he is to meet with US President George W. Bush on the sidelines of ceremonies marking the anniversary of the state's founding.
"There is armed intervention happening in Georgia right now," Saakashvili told Georgian reporters, referring to Russia's reinforcement of troops in breakaway Abkhazia.
"We are facing a serious international crisis. But this is not just a crisis for Georgia—this is a barefaced, reckless and unprecedented attempt to redraw the post-communist world order."
Saakashvili said he would speak with Bush about the conflict.
The same day, a state minister said only last-minute intervention from the French foreign minister has kept Russia and Georgia from war.
"Recently when the situation was very tense and escalating, [French Foreign Minister Bernard] Kouchner telephoned his Russian counterpart [Sergey] Lavrov, and as a result of that conversation result there is no war today in Georgia," State Minister for Reintegration Issues Temur Iakobashvili told Agence France-Presse.
Iakobashvili did not give details, but said, "Western countries have switched from giving moral support to taking action."
In his first visit to Russia since taking office, Iakobashvili is leaving for Moscow tomorrow for talks on the Abkhazian and South Ossetian conflicts.
He will leave with a gust of confrontational rhetoric at his back.
Earlier this week, President Saakashvili accused Russia of trying to "redraw the world order" in the "most aggressive attempt [to do so] since the Cold War."
Speaking to local journalists, Saakashvili said Georgia has the world's support.
"The international community will never condone or acquiesce to the illegal presence of a foreign contingent [in Abkhazia] or weapons transfers, and it will not tolerate efforts to undermine the situation there in the long term," he said.
Yesterday, Abkhaz leader Sergey Bagapsh again said that formal peace talks are on hold until Georgia withdraws its forces from Kodori Gorge—a small portion of Abkhazia under central state control—and signs a non-resumption of violence pact.
The Georgian government says its presence in Kodori Gorge is in line with ceasefire agreements, and has resisted signing a non-resumption of violence agreement, though the president recently suggested Georgia would agree to the pact if someone other than Russia was the guarantor.
Earlier this week, both the top US envoy to the region and Georgian envoy to the UN Irakli Alasania, who is said to be trusted by Abkhaz leadership, met separately with officials in the de facto secessionist capital of Sokhumi.
Bagapsh, the Abkhaz leader, said he discussed security concerns and the Kodori Gorge situation with Alasania.
Tensions have climbed around Georgia's breakaway regions since Russia announced last month it would formalize ties with Abkhazia, a move Tbilisi says amounts to annexation.
Abkhaz leaders also asked Russia to open military bases in the region in exchange for security guarantees.
The increase in ties was followed by the downing of an unmanned Georgian spy plane—which Tbilisi blamed on a Russian fighter jet—and the reinforcement of Russia's peacekeepers in Abkhazia.
Russia denies shooting down the Georgian drone, and says its peacekeepers are contributing to stability in the region.