Saakashvili to meet Bush
By Temur Kiguradze
Friday, May 16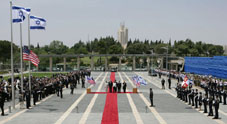 President Mikheil Saakashvili is expected to meet the United States president in Jerusalem to discuss Georgia's tense relations with Russia.
Saakashvili is in Israel to mark the 60th anniversary of its founding.
Yesterday he met with the Israeli president and Polish President Lech Kaczynski who said, "NATO should prove its credibility by stating that all acts of aggression towards Georgia will be met with a reaction."
The Georgian government has sought international support as relations with Russia nosedived in the last month over the breakaway region of Abkhazia.
On May 12, Saakashvili met the foreign ministers of Latvia, Lithuania, Poland, Slovenia and Sweden to ask for "more active involvement in the conflict resolution process."
Yesterday Georgia's envoy to the UN, Irakli Alasania, met the UN secretary-general to talk about the situation in Abkhazia.
Later the UN General Assembly passed a non-binding resolution calling for progress in the return of refugees displaced by the Abkhazian conflict, which are mostly ethnic Georgian.
Alasania called the resolution a "great success."
Russia has angered Georgia by formalizing links with its separatist regions of Abkhazia and South Ossetia, and by increasing the number of its peacekeepers in Abkhazia.
Georgia also claims Russia has shot down one of its unmanned spy planes over Abkhazia.
Russia says Georgia is aggravating the situation by building up its forces near Abkhazia—which Tbilisi denies—and more broadly by seeking to join the NATO military alliance.
Yesterday the Russian Defense Ministry posted on its website an extensive list of weapons and military equipment it says Georgia has bought from NATO member states.
Georgia's deputy defense minister responded by calling the information "outdated." Georgia's military has even more modern equipment, the deputy minister said, and is continuing to improve its forces.