Opposition say Saakashvili in no position to offer posts
Eter Tsotniashvili
Friday, May 16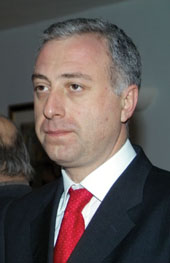 Opposition leaders have mostly spurned the president's offer of high-ranking posts in the new parliament after next week's elections.
President Mikheil Saakashvili said this week he wanted his party to have better relations with the opposition, suggesting they should be given more sway in parliament and a bigger stake in government success.
"We certainly must give [the opposition] many more leading positions in parliament and maybe within the government too," Saakashvili told a gathering of state scholarship winners on May 13.
Most opposition leaders were unimpressed by Saakashvili's overtures, saying he should not assume the ruling party will control the next parliament.
"I am sure no one believes him. Only the people will decide who will have a parliamentary majority in the next parliament," said Davit Gamkrelidze of the New Rights, a member of the nine-party opposition coalition.
The Republicans have taken a similar stance, saying Saakashvili will be in no position to hand out posts after the May 21 elections.
"No one will ask [Saakashvili] what kind of decisions the new parliament will make when the opposition have a majority," said Tina Khidasheli, a leading member of the moderate Republicans.
Party leader Davit Usupashvili said yesterday that any Republican cooperation with the ruling party will depend on how fair they judge the elections to be.
And the leader of the populist Labor Party, notorious for his radical statements, called on Saakashvili to leave Georgia.
"It would be better for him to prepare his luggage and leave the country peacefully than make such kind of statements," Labor leader Shalva Natelashvili told television station Rustavi 2.
A few opposition parties have not ruled out cooperation with the ruling party, among them the Industrialists, which are defending their handful of seats in parliament, and the newly-formed Christian Democratic Party.
"Opposition representatives should be in state bodies such as the chamber of control, as it is parliament's main function to control authorities and the chamber of control is the main weapon," Christian Democratic Party leader Giorgi Targamadze said.