Voting mostly calm, with notable exceptions
By Messenger Staff
Thursday, May 22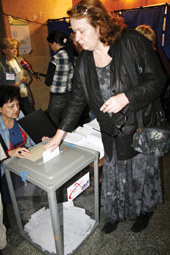 Despite significant reports of violations and organizational glitches at the ballot box, voting was mostly calm across the country yesterday, with one domestic NGO giving a "generally positive assessment" of the parliamentary elections.
Opposition leaders however, were quick to condemn the elections with fiery rhetoric.
"The situation is much worse than it was during the presidential election," Davit Zurabishvili, a leading Republican, said yesterday afternoon.
Meanwhile New Rights leader Davit Gamkrelidze, now with the United Opposition, claimed voter intimidation was on such a level that the Special Operations Department of the Interior Ministry was effectively holding the elections.
Earlier in the day the Interior Ministry denied that the murder of a man in a district in western Georgia was related to the ongoing elections or that it occurred near a polling station.
The United Opposition, a nine-party coalition, had claimed the dead man was an opposition activist shot on his way to vote.
In the early afternoon the Christian Democratic Party released a list of alleged violations, including accusations of ballot stuffing and voting carousels.
A short while later the ruling National Movement presented alleged violations perpetrated by the opposition, among them the claim that a Labor Party representative stole a registration list from a polling station.
At a polling station in Saburtalo district, Tbilisi, a National Movement activist was seen by a reliable source organizing the line and shuffling papers. There were more reports of the same in other polling stations.
Meanwhile in Gori district, a precinct election commission chair resigned after the Georgian organization New Generation New Initiative (nGnI) filed a complaint citing ten alleged cases of voting on behalf of other people, an nGnI representative told the paper.
In a report at the end of the day nGnI gave a "generally positive assessment," despite violations in some districts, and expressed hope that the results from one precinct in Gori would be annulled.
In Saburtalo, 64-year-old professor Ramaz said his name was not in the registration list at the first polling station he visited and when he later arrived at the correct station he was told he had already been marked with voter-ink and turned away.
"I feel cheated and disenfranchised. I feel that the elections will be rigged by CEC, probably under inspection by the ruling party," he told the paper.
In Gldani district one early morning voter said that reports of intimidation had made her think twice about the ticking an opposition box.
"I am scared. My daughter has a job. What if they [the ruling party] see my decision and sack her?" Liana, a 59-year-old housewife, said.
However at other polling stations, including one in Didube a Messenger reporter visited, the atmosphere was calm and orderly with election commission staff appearing polite and helpful.
Giorgi, a 32-year-old manager, said he was unsure whether voting was worthwhile given the "high probability of fraud," while Nana, a 38-year-old teacher said she was there because "every vote counts."