Adjara gears up for tourist season
By M. Alkhazashvili

Tuesday, May 27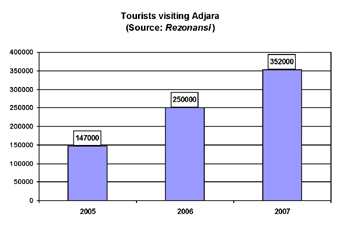 Adjara, Georgia's busiest summer holidaying hotspot, is gearing up for the tourist season.
Authorities claim that the number of tourists visiting the region has rocketed over the past few years, more than doubling between 2005 and 2007.
Adjara has been Georgia's most significant holidaying destination since Tbilisi lost control of Abkhazia in the early 1990s. Authorities claim they received 18 000 holidaymakers between January and April this year.