Republicans say video evidence of election rigging is smoking gun
By Shorena Labadze
Thursday, May 29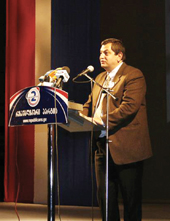 The Republicans released video footage yesterday which they say prove the May 21 parliamentary elections were rigged.
Leading Republican member Davit Berdzenishvili screened new video footage which he said unmasked blatant election rigging in Batumi, where he lost a race for parliament to the ruling party candidate.
Berdzenishvili said the evidence should be enough to annul the elections' results.
In the video, people can be seen fussing about in the yard of the Batumi District Commission with unsealed ballot boxes. The scene was supposedly filmed from a nearby balcony around three or four in the morning.
"The signed voter rolls aren't sealed, and that's already an incident of lawbreaking. The ballot boxes must have a stamp from the precinct affixed, a stamp of registration, and must be sealed," Berdzenishvili said.
One of the women can be seek taking papers from her handbag and putting them in an envelope. She then puts the envelope into a ballot box.
The people in the video seal the boxes up and load them into a car.
"They changed the ballots before taking the ballot boxes to the district where the opposition representatives were waiting," Berdzenishvili narrates.
EU envoy Peter Semneby personally witnessed illegal changes to the signed voter rolls in Nikozi village, according to Berdzenishvili. He then demanded to see all the lists.
"That's why they had to abolish that district's [results]," Berdzenishvili said.
There was an earlier briefing yesterday in Batumi but as it wasn't aired by the TV channels, Berdzenishvili said.
The party will take their evidence to the Prosecutor General's Office and the Central Election Commission.
Central Election Commission chief spokesman Zura Kachkachishvili said he cannot comment on the alleged violations because the Republicans haven't lodged a complaint yet.
"These incidents mean the elections weren't [truly] held. In spite of the fact that the authorities bought tens of thousands of people, they couldn't win the elections without total rigging," Berdzenishvili said.
During the May 21 parliamentary elections the moderate Republicans, which split from the more radical United Opposition bloc in March, also screened video footage of alleged violations.
Those earlier videos included allegations that hundreds of voters had taken fraudulent passports to vote in some districts, and documented the intimidation and assault of Rezonansi journalist Eliso Chapidze by unknown men at a rural precinct.
The Republicans fell short of the five percent vote threshold for parliamentary representation in last week's vote, but two local candidates running on their ticket were elected.
International observers have generally deemed the poll better conducted than January's presidential election, but noted shortcomings and limited instances of fraud.