Saakashvili-Medvedev meeting to cover awkward ground
By Mikheil Svanidze
Thursday, May 29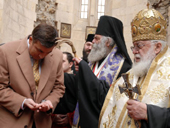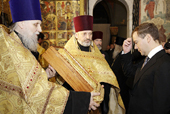 President Mikheil Saakashvili's first meeting with the new Russian president will cover some awkward ground, Saakashvili suggested this week as he outlined a possible agenda.
Speaking at a session of the National Security Council on May 27, Saakashvili said he would bring up the attack on a Georgian spy drone last month. A UN report released this week concluded Russia was to blame for the downing of the aircraft.
The president also said he hoped to change relations between the two countries from those of "megaphone diplomacy."
"We want to stabilize the situation, which is extremely strained now, and I hope we find a constructive solution with the new Russian president," he said.
Saakashvili also condemned Russia's decision to establish diplomatic ties with breakaway Abkhazia and South Ossetia regions last month and said that Russia had "annulled" the peacekeeping format in Abkhazia by carrying out "military acts" against Georgia.
This week the Foreign Ministry announced Saakashvili would meet Russian President Dmitry Medvedev in the near future, leading to speculation that the pair may meet at an informal Commonwealth of Independent States summit in St Petersburg early next month.
In an interview with Russian news agency Interfax, Georgian Deputy Foreign Minister Grigol Vashadze could not confirm this.
"Will the president travel to St Petersburg? I can't answer this question yet. Events may take an unexpected turn, every morning we get surprises from the Russian Ministry of Foreign Affairs and the Ministry of Defense," Interfax quoted Vashadze as saying.
Medvedev expressed hope for "constructive cooperation" and the "development of neighborly relations" with Georgia in a congratulatory message released on Georgia's Independence Day earlier this week.
Saakashvili met Medvedev's predecessor Vladimir Putin four times as president, and he's indicated that, as far as Georgia's concerned, Medvedev hasn't entirely filled Putin's boots.
In an interview with British newspaper The Independent last month the Georgian president made a wry reference to speculation that Putin is still pulling the strings in Moscow.
"So far I tried to call Medvedev several times but I was always connected to Putin," the newspaper quotes him as saying with a grin.