Opposition complain of arbitrary decisions on election appeals
By Shorena Labadze
Friday, May 30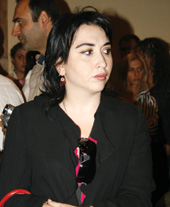 With results from 39 polling stations annulled so far after last week's parliamentary elections, the opposition is complaining that there is no clear basis for ruling results invalid.
"Their logic of making decisions on annulling results is absolutely incomprehensible. One can't understand according to which law they make annulments," said Eka Beselia of the United Opposition, an eight-party opposition coalition which ran a distant second to the ruling party in the elections.
She was speaking after an election commission decision allowed the results of 26 precincts in Tbilisi's Nadzaladevi district to stand, rejecting United Opposition evidence which it claims shows violations in those precincts.
Beselia told the Messenger that she would now take the matter to the courts. She also scoffed at the current number of annulled precincts, saying that 39 precincts should be annulled in Nadzaladevi district alone.
"This figure doesn't change anything," Beselia said, describing it as an attempt by the authorities to give a false impression to foreign observers that they are properly responding to election violations.
The OSCE's preliminary post-election report faulted the election commissions and courts for "apparent bias" in considering complaints, as the OSCE has done in earlier reports.
"Complaints and appeals procedures were simplified and clarified to some extent, but they remain contradictory and ambiguous," the OSCE said. "Election commissions and courts generally did not give due consideration to complaints… In some cases they refused to hear relevant witnesses or view documented evidence, failed to address all relevant facts or provide legal reasoning, and applied unsound interpretations of law."
Around three-quarters of the annulments of polling station results have been carried out by an election commission. The others were carried out after the matter was taken to courts.
Earlier this week the Republican Party released footage it claims reveals election violations in Batumi, and is demanding that results from the entire district be annulled.
The party presented the evidence to the Prosecutor General's Office but has not yet lodged a complaint with the Central Election Commission.