Tbilisi asks UN Security Council to discuss downed spy drone
By Mikheil Svanidze
Friday, May 30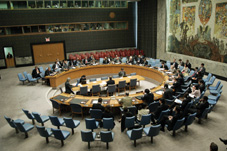 Tbilisi is continuing to press Russia internationally over the downed spy drone incident, while Russian officials say the attention should be on Georgia's decision to fly reconnaissance drones above its conflict zones.
Georgia asked the United Nations Security Council to convene a special session to discuss the findings of the UN mission in Georgia (UNOMIG), whose investigators concluded a Russian jet shot down an unmanned Georgian spy plane over breakaway Abkhazia on April 20.
A spokesman for the Georgian embassy to the UN told the newspaper that a Security Council session scheduled for today would consider the "ongoing situation in Georgia" in general and the UNOMIG report in particular.
The Russian envoy to the UN said he would push to include representatives of the Abkhaz separatist administration at the session.
The Georgian Foreign Ministry is demanding an international inspection of a former Russian military base in Abkhazia—where Georgia suspects a Russian jet took off to down the spy drone—as well as an official apology and compensation for the destroyed plane.
Russia has officially denied the charge, with varying degrees of vehemence.
"There is no discussion about violating the Georgian state border, not to mention the downing of a Georgian drone," said a Russian defense ministry spokesman shortly after the UNOMIG report was released.
But in somewhat surprising comments, deputy chair of the security committee of Russian State Duma Gennady Gudkov agreed it was "probably a Russian jet" which shot down the Georgian drone, according to Russian news media. He suggested the decision was made by local commanders, not Moscow, and said attention should be on Georgia's decision to fly the spy planes in breach of the ceasefire agreement.
Abkhaz separatist forces say they shot down the drone, along with six others. Georgia confirms only the April 20 incident, and blames Russia for the attack.
Sergey Bagapsh, the de facto Abkhaz president, told reporters that UNOMIG should focus on why Georgia is carrying out surveillance over the conflict zone.
Yesterday evening in Tbilisi, President Mikheil Saakashvili met with deputy secretary of the Russian Security Council Yuri Zubkov.
"Problematic questions between the two countries will be discussed," Zubkov told reporters before the meeting.
Georgia is also expected to bring up the UNOMIG report in an OSCE session, according to television station Rustavi 2.