Russia to rebuild Abkhazia railway
By Winston Featherly
Monday, June 2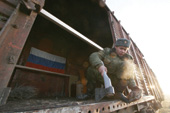 Georgia is accusing Russia of preparing an "invasion" after it deployed a team of military engineers to patch up breakaway Abkhazia's crumbled railway system.
The Russian Defense Ministry confirmed on May 31 that railroad engineers were dispatched to repair roads and railways as "humanitarian aid" for the separatist enclave. The engineers are under Russian military command and undertake both army and civil engineering projects.
Georgian officials say Moscow has more aggressive purposes in mind, and demand the forces be pulled back.
"Troops are troops and they need to be withdrawn," said Georgia's top official for conflict issues, Temur Iakobashvili.
There are about 400 unarmed Russian engineers, according de facto Abkhaz foreign minister Sergey Shamba, who told the Interfax news agency that his administration requested the force be sent.
"There's no need to search for any malicious intent behind this; it's a purely economic move," he said.
Shamba said the troops will repair the railway to allow rotations of Russian peacekeepers and, eventually, to help move construction material for the 2014 Winter Olympics in the nearby Russia resort town of Sochi.
But a US State Department spokesman said Washington is "dismayed" by Russia's decision, and has contacted Moscow over "this latest announcement of a Russian military build-up."
Georgian officials say the railway troops are preparing the ground for the complete annexation of Abkhazia.
"We see this as one more aggressive step from Russia against Georgia's territorial integrity," said Deputy Foreign Minister Grigol Vashadze at a press conference convened after the Russian announcement.
"No one needs to deploy railway troops to another country's territory unless a military invasion is being prepared," he said.
A Georgian Foreign Ministry statement calls for the immediate withdrawal of the railway troops, warning that Russia bears responsibility for the consequences of the deployment. The statement asks for international help in preventing "large-scale military aggression planned against [Georgia]."
Russia confirmed the deployment as ambassadors from EU member states visited Abkhazia in an international flurry of diplomacy to cool tensions around the conflict zone.
The UN Security Council convened the day before to consider a UN team's report that Russia shot down an unmanned Georgian spy plane in April. The Georgian envoy to the UN said drone flights, which the UN report reproached as a breach of ceasefire agreements, stopped after the report was released last week. Georgian officials now suggest the deployment of the Russian railway troops would justify restarting flights.
Tensions between Georgia and Russia have climbed as Moscow moved to bolster links with separatist Abkhazia and South Ossetia and later reinforced its troops in the two territories.
Georgian leaders say the Kremlin's actions amount to annexation of the breakaway territories, and demand they be reversed. Moscow says it is protecting Russian passport-holders and keeping the peace in the separatist enclaves.