No letup in Georgia-Russia spat as presidents prepare to meet
By Temur Kiguradze
Thursday, June 5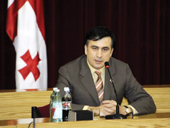 Moscow accused Georgia yesterday of being the "instigator of all recent provocations" in the breakaway region of Abkhazia, days before President Mikheil Saakashvili is due to meet his new Russian counterpart for the first time.
A Russian Foreign Ministry statement criticized Tbilisi for using the Vienna Mechanism, an OSCE instrument, to request an explanation from Russia over the downing of an unmanned Georgian spy plane over Abkhazia in April.
The Vienna Mechanism allows any OSCE member to request an explanation from another member for unusual military activity on its territory, and to ask OSCE members to convene over the issue if it is unsatisfied with the response.
Georgia says it has video evidence to prove the drone was shot down by a Russian fighter jet, and a UN investigation concluded last month that Russia was to blame.
Moscow insists the drone was downed by Abkhaz forces.
Russia said yesterday that the Vienna Mechanism was not a valid channel as the incident is a "matter for negotiations between the Georgian and Abkhaz sides."
However Georgian Foreign Minister Eka Tkeshelashvili said Tbilisi would continue to pursue the matter through the Vienna Mechanism and accused Moscow of peddling a "policy of provocations."
Tension between Georgia and Russia stepped up again this week when Moscow deployed military engineers to repair railways in Abkhazia as part of what it says is humanitarian aid.
Separatist Abkhaz officials say the unarmed engineers will repair railroads to allow rotations of Russian peacekeepers. Tbilisi says they are preparing for an invasion.
NATO Secretary General Jaap de Hoop Scheffer condemned the move on June 3 and called on Georgia and Russia to "engage quickly in a high-level and open dialogue to de-escalate tensions."
President Mikheil Saakashvili will meet Russian counterpart Dmitry Medvedev at the end of this week at an unofficial summit of the Commonwealth of Independent States.
The deployment of railway troops is among the issues that will be discussed, the Kremlin has confirmed.
Political analyst Hamlet Chipashvili said that the upcoming meeting is unlikely to achieve results.
"There is no example in world history when governments continue to insult each other while the presidents prepare for the meeting," he said.