Subari: Government behind 'systematic' political violence
By Shorena Labadze
Thursday, June 5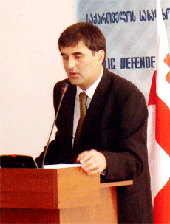 Georgia's human rights ombudsman said he sees systematic and worsening attacks on political and media freedom in the last few weeks.
"The human rights situation has got much worse since the May 21 parliamentary elections," Sozar Subari said in a statement yesterday.
The human rights ombudsman said a dozen opposition supporters have been assaulted in the last few days, including one woman.
"I visited the injured people…they were beaten without mercy," Subari said.
Subari flatly labeled the attacks as political violence.
"The people who are beaten by masked people were opponents of the government during the election campaign. So saying these incidents are just a criminal affair and not political is simply closing one's eyes to the reality," Subari said
He warned of "systematic" government violations of human rights, saying attacks like these are meant to breathe fear into Georgians.
A spokesman for the Internal Affairs Ministry, which commands all police units, says the attacks are being investigated.
One of the reported victims was Nona Saghareishvili, an opposition election commissioner in Mtskheta.
"[Before the election] I got threatening messages demanding I leave the opposition. Several times they told me they would kill me… They even offered me first GEL 500 and then GEL 700 to join [the ruling party]," she claims.
She says two black-clad men attacked her in her Tbilisi apartment building on May 2. Neighbors called the police, and she left the scene in an ambulance.
The police questioned her for four hours the next day, but Saghareishvili says she has little faith in their investigation.
Subari, the human rights ombudsman, linked the attacks with an apparent tightening of the screws on free press.
He cited the shuttering of the pro-opposition Imedi TV, pressure on regional broadcaster Hereti FM, the resignation of the Georgian Public Broadcaster's board chairman and the recent sacking of top Radio Imedi management as examples of a campaign against media freedom.
"Radio Imedi broadcast news which was impossible to hear from the TV stations," Subari stated.
Kvemo Kartli governor Davit Kirkitadze, reached for comment, said that all violations should be investigated and prosecuted.