EU foreign policy chief in Georgia amid rising Abkhazia tensions
By Messenger Staff
Friday, June 6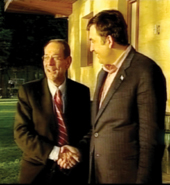 The EU foreign policy chief was in Tbilisi yesterday seeking to lower tensions between Russia and Georgia over a breakaway region.
EU High Representative for the Common Foreign and Security Policy Javier Solana's visit is part of an urgent diplomatic effort around separatist Abkhazia, where the situation has teetered on edge as Georgia accuses Russia of trying to annex the region wholesale.
Russia's recent moves are "not measures which would continue to lower the temperature" in Abkhazia, Solana said at a press conference yesterday.
Moscow says its recent decisions to formalize links with the separatist regimes of Abkhazia and South Ossetia, and to increase its peacekeeping contingent and repair the railways in Abkhazia, is intended to better the lives of the conflict zones' residents.
Tbilisi says the Russian-led peacekeeping force is propping up the separatist administrations as Kremlin proxies.
The Georgian government is demanding the immediate reversal of Russia's recent moves in Abkhazia, and seeks to replace the peacekeepers with an international force.
It won a moral victory yesterday when the European Parliament passed a resolution calling for a new peacekeeping format with European contribution.
But Solana said any change of format would have to be agreed to by all parties in the conflict.
The de facto Abkhaz government has made it clear it will not accept a revision which diminishes Russia's role in the region.
The EU foreign policy chief is next going to the de facto Abkhaz capital of Sokhumi to "get a clear picture" of the situation.
Later yesterday he traveled to seaside Batumi, where he joined President Mikheil Saakashvili.
Saakashvili leaves today for St Petersburg, where he is to meet with Russian President Dmitry Medvedev.
The Georgian president said he would insist that the Kremlin withdraw its recent deployments to Abkhazia, stop construction of "military infrastructure" there and reverse its decision to bolster ties with the separatist regimes.