Third Georgian soldier killed in Iraq
By Messenger Staff
Friday, June 6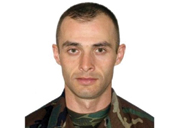 Georgia suffered its third combat fatality in Iraq on June 4, the Defense Ministry confirmed yesterday.
Sgt. Irakli Kordzaia, 28, was killed by enemy fire while responding to the shelling of a checkpoint in Diyala province, northeast of Baghdad, a military spokesperson said.
A statement on the Defense Ministry website says his family will be given GEL 15 000 in indemnity.
Last month two Georgian soldiers were killed by a roadside bomb, the first combat deaths since Georgia deployed troops in 2003.
Tbilisi sees its contribution to the US-led coalition in Iraq as a demonstration of its worth as an international ally.
Last summer, the government decided to increase its contingent in Iraq to 2000 soldiers, but has since suggested it will withdraw its forces this year.