Christian Democrats set up NGO branch
By Shorena Labadze
Friday, June 6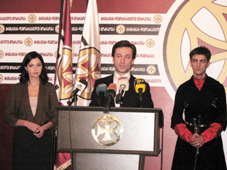 Christian Democratic Movement leader Giorgi Targamadze has founded an institute he says will defend "Christian democratic values."
The Christian Democrats have charted a swift rise in political clout since the party's founding in February. Tapping into a ready-made support base of devout Orthodox Christians, the avowedly secular Christian Democrats won the third-highest number of votes in parliamentary elections less than four months later.
The newly-formed Christian Democratic Institute is an apparent effort to extend and ingrain their civic influence.
The professor of psychology who will head the institute, Nodar Sarjveladze, said it would deal with the "most acute and pressing issues of our country."
Party secretary Nikoloz Laliasvili says the institute will not be a platform for political pursuits.
"The institute will only work on issues such as democratic, human rights and many other problems. We'll also discuss the issue of joining NATO and other international organizations," Laliashvili said.
He added that the institute was announced when the Christian Democratic Movement was first founded, but its opening was delayed due to the political crises in Georgia.
The institute will organize a debating society and release a regular journal, which Laliashvili emphasizes will be apolitical.
He said the journal will print academic articles on agriculture, economics, foreign policy and human rights, among other issues.
Georgian political analyst Archil Gegeshidze welcomed the creation of the institute.
"Such institutes should be set up all the time. They come up with good ideas. If there is financial support and an intellectual basis, they can carry out many interesting projects," he said.