Ex-foreign minister elected speaker of parliament
By Shorena Labadze
Monday, June 9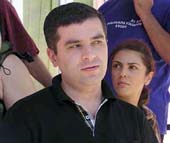 Former foreign minister Davit Bakradze was formally appointed parliamentary speaker at the inaugural session of parliament on June 7.
"I fully understand the responsibility I have to assume," Bakradze told MPs at the session, adding that he would "spare no efforts in creating a strong parliament."
It is an influential position that has been held by political heavyweights like Nino Burjanadze and Zurab Zhvania, who both played key roles in the 2003 Rose Revolution which swept the current administration to power.
The ruling National Movement won nearly eight out of ten seats in an election the opposition says was grossly unfair, leaving Bakradze with the daunting challenge of crafting an inclusive parliament which avoids the appearance of a one-party rubber stamp.
Bakradze was picked for the position after departed speaker Nino Burjanadze said in a surprise announcement that she would not seek reelection. He replaced her as the leading name on the ruling party electoral list.
He was spokesman for President Mikheil Saakashvili's reelection campaign in the run-up to the January presidential vote and became foreign minister later that month.
Parliament appointed him speaker with 116 votes in favor and none against. Four MPs abstained from voting; television station Rustavi 2 reported that two of those were opposition MPs elected on the Republican and Labor tickets.
Other post changes included former agriculture minister Petre Tsiskarishvili, who was made parliamentary majority leader.
Nino Kalandadze, a former majority MP who did not seek reelection in last month's parliamentary vote, was appointed deputy foreign minister.
Independent analyst Ramaz Sakvarelidze said Bakradze was right for the role of parliamentary speaker.
"Davit Bakradze is a top diplomat who is experienced in politics. This high-level position won't be uncomfortable for him," he said.
But he said Tsiskarishvili could be labeled "aggressive" in his new role as he steps forward to fend off opposition attacks on the ruling party.