Moscow mayor says Tbilisi should recognize separatist independence
By Messenger Staff
Monday, June 9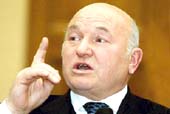 Moscow Mayor Yuri Luzhkov called on the Georgian government to recognize the independence of its separatist regions, drawing bitter fire from Tbilisi officials.
"Everything will be easier if Georgia recognizes the independence of Abkhazia and South Ossetia," they mayor said at an economic forum in St Petersburg over the weekend.
He said Georgian recognition of the self-declared republics was "inevitable."
The comment received heavy Georgian news coverage, and swift reaction from Georgian politicians.
Senior MP Nika Rurua said Georgia should "declare [Luzhkov] persona non grata, as our Ukrainian friends have done."
"Luzhkov repeatedly makes extremely hostile comments about the Georgian state. He should know that this comes with a price," Rurua told reporters.
Tension between Georgia and Russia has increased in recent weeks after Moscow stepped up ties with the de facto independent separatist regimes.
Russia subsequently sent additional peacekeeping troops to Abkhazia and last week deployed military railway engineers to the breakaway region in what it said was humanitarian assistance.
Tbilisi says Russia is gearing up for war.
Last year Luzhkov announced that the Moscow municipality had signed an agreement with the Abkhaz de facto authorities to increase investment in the region.
He has also said Abkhazia would play a role in preparation work for the 2014 Winter Olympics in Sochi, which is about 40 kilometers from Abkhazia.
Georgia says any unauthorized business in the conflict zone, which is de jure Georgian territory, is illegal.