No breakthroughs in first Saakashvili-Medvedev meeting
By Temur Kiguradze
Monday, June 9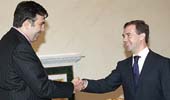 The presidents of Georgia and Russia met for the first time on June 6 in St Petersburg. Both sides said it was a friendly encounter, but there was no sign of resolution to the deeply divisive issues standing between the two countries.
Georgian President Mikheil Saakashvili met counterpart Dmitry Medvedev on the sidelines of an unofficial CIS summit.
Medvedev publicly welcomed the chance to meet and talk with the Georgian president; Saakashvili also approached the introduction with optimism.
"There are many unsolved questions, but none of them are unsolvable," he told reporters.
Georgian-Russian relations have grown extremely tense since spring, with Moscow making abundantly clear its opposition to Georgia's NATO membership bid. Russia has reinforced its peacekeeping troops in breakaway Abkhazia and increased ties with the separatist regime there, sparking intense Georgian protest.
After the meeting, Saakashvili said the difficult relations with Russia are "artificial and not beneficial for any side."
Russian officials said they told the Georgian president they seek a change in course for the westward-looking country.
"We have felt that Saakashvili understands that a course towards NATO is not the key for solving the Abkhazian problem," Russian Foreign Minister Sergey Lavrov said after the presidents' meeting.
Lavrov said the presidents discussed, among other issues, the recent deployment of military engineers to repair Abkhazia's railway system over Tbilisi protest.
Moscow reiterated that these works are "humanitarian aid to the Abkhazian population."
The Russian foreign minister said the presidents did not raise the April 20 downing of an unmanned Georgian spy plane over Abkhazia.
The Georgian government, backed by a UN investigation, blames the attack on a Russian fighter jet.
Russia denies its plane shot down the Georgian spy drone, and says Georgia is at fault for flying reconnaissance missions over the conflict zone in the first place.
Tbilisi says the incident proves Russia is not suited to act as a peacekeeper in Abkhazia.
Georgian Foreign Minister Eka Tkeshelashvil said the Georgian president told Medvedev he "aims to change the current peacekeeping format in Abkhazia" to include European involvement.
But Medvedev obliquely suggested he would oppose any European intervention, mentioning at a public briefing with Saakashvili that he met with German diplomats.
"[They] are worried by Georgian-Russia relations," he said, "but I think that we ourselves are able to solve all the problems among us."
Analysts read this as a signal to the West to not interfere in Georgian-Russian relations.
Two days before meeting in St Petersburg, the two presidents held a phone conversation in which, according to Georgian officials, Saakashvili outlined three demands: the withdrawal of recently-deployed Russian troops in Abkhazia; an immediate end to railway repairs; and the reversal of an April presidential decree to formalize ties between Moscow and the separatist administrations in Abkhazia and South Ossetia.
"Unfortunately, despite the friendly atmosphere in the meeting, no progress was made on these substantive issues," said a June 6 Georgian government press release.