Prison department says hunger strikers making senseless demands
By Shorena Labadze
Wednesday, June 11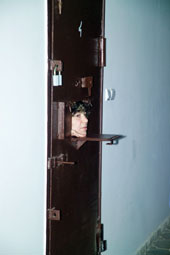 As around 100 female inmates continued a hunger strike at a Tbilisi jail yesterday, the prison department says it's not responsible for dealing with demonstrators' demands.
"They have no demands for our administration; [what they say] makes no sense. Each of them has a different case which needs its own investigation," department press speaker Salome Makharadze told the
Messenger
.
The hunger strike began on June 7 in protest at poor conditions, according to the head of the NGO Former Political Prisoners for Human Rights, Nana Kakabadze.
Yesterday she said prisoners are continuing to join the protest.
"The administration simply ignores their demands and nobody from the authorities has responded to the problem," Kakabadze told the paper.
Makharadze, the prison department representative, said reports of poor prison conditions are misinformation.
"They can't have these demands [for better conditions] because their conditions and food meet international standards," she said, adding that any visitor would agree.
She refused a subsequent request to tour the prison.
Kakabadze says the prison administration threatened the women with death. When the NGO publicly reported these threats, she said, they stopped.
She also said that some of the women on strike are political prisoners, who were jailed after speaking out against government moves to confiscate their property.
Kakabadze added that the hunger strike shows no sign of abating.
"They have even more determination than they had before," she remarked.
There are 555 prisoners in the jail including around 125 women and 103 juveniles.