Saakashvili says Europe's principles at stake in Abkhazia
By Temuri Kiguradze
Wednesday, June 11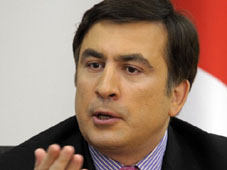 Casting his country's dispute with Russia in historic terms, Mikheil Saakashvili says Georgia's freedom—and Europe's principles—are at stake as tensions escalate over a breakaway region.
"We will not allow part of our territory to be seized…or Georgia to be turned from the road of freedom," said President Saakashvili.
In an interview with local television station Rustavi 2 aired June 9, Saakashvili compared the current tensions between Georgia and Russia to the prologue of the Red Army invasion of an independent Georgia republic in 1921.
The president said Europe "betrayed its moral principles" by leaving Georgia to Russia nearly 90 years ago. But now, he said, Georgia has the "support of the rest of the civilized democratic world."
The world is sympathetic to Georgia's position that it is the victim of ethnic cleansing and unlawful aggression in breakaway Abkhazia, Saakashvili said.
"It is no longer the Georgia of 1921."
Georgia is accusing Russia of attempting to annex Abkhazia outright, after Moscow moved to formalize links with its separatist authorities in April. Russia later reinforced its troops in the separatist enclave and deployed military engineers to repair its railways.
Russia says its deployments are legal and needed to protect Russian passport-holders—which includes most Abkhaz—from Georgian aggression in the region.
In the interview, Saakashvili hailed a European Parliament resolution passed last week which called on Russia to withdraw the recently-deployed troops and advised a change in the Russian-led peacekeeping format.
And he suggested Georgia will soon formally demand the complete withdrawal of Russian peacekeepers.
Moscow's recent moves in the breakaway region are "unfreezing" the frozen conflict, Saakashvili said, "bringing the conflict to a very dangerous stage."
"The major issue is very simple—in recent days, in recent weeks the conflict has moved out from the frozen condition; the process, which from the legal point of view can be assessed as annexation, is now ongoing and what the [Russian railway engineers] are now doing there, along with deployment of paratroopers, is in fact launch of a military intervention," Saakashvili said
Saakashvili met for the first time with new Russian President Dmitry Medvedev last weekend in St Petersburg, but the conversation did not resolve those "major issues," the Georgian president told his interviewer.
The Russian government advised Tbilisi to adopt the peace plan of the separatist Abkhaz leadership, which a Russian Foreign Ministry statement called "clear and logical."
Georgia should withdraw its forces from Upper Kodori Gorge, the sliver of breakaway Abkhazia controlled by Tbilisi, and sign a non-resumption of violence pact with Sokhumi, said the June 8 statement from Moscow.
"If [this is done] by Tbilisi, it will become realistic to reduce tension, to strengthen stability and to settle the Georgian-Abkhaz conflict in the future," the statement read.
Clashes and tensions have flared regularly in Abkhazia since the region broke away in the early 1990s, but the latest confrontation—coming after NATO made clear it intends to eventually expand to Georgia and Ukraine—has the world taking notice.
Influential think-tank International Crisis Group issued a report last week warning of the risk of war in Abkhazia.
The report says Russia, alarmed by Georgia's NATO membership ambitions, has "stepped up manipulation" of the conflicts in Abkhazia and South Ossetia, another de facto independent region, while hawks in Tbilisi are seriously considering a war to regain at least part of Abkhazia.
Moscow officials have repeatedly made it clear Georgia faces escalating conflict in Abkhazia by continuing its drive toward the Western military alliance.
But EU and US leaders, meeting in Slovenia, underlined in a joint statement yesterday that the West would continue to sponsor Georgia's foreign policy aspirations, noting that "NATO leaders sent a clear message in Bucharest that Georgia and Ukraine will become members of NATO."
"We reiterate our commitment to the principles of sovereignty and territorial integrity of Georgia within its internationally recognised borders, and call on all parties, in particular on Russia, to support these principles," their statement read.
The joint statement also welcomed the Saakashvili administration's peace plan for Abkhazia, which offers "unlimited autonomy" for the separatist enclave within the Georgian state, high-ranking government posts for ethnic Abkhaz and economic incentives.
Abkhaz officials have said that proposal is a non-starter, and observers say the conflict continues to teeter on a dangerous edge.
"Neither Georgia nor Russia probably wants war, but it could all too easily come by miscalculation, and if it does, it could set the Caucasus—North and South—ablaze," said a statement from International Crisis Group's Europe program director. Sabine Freizer.
"All sides need to recognise the risks in their policies, return to the negotiations table and support confidence building."
In his interview, President Saakashvili said Georgia will work with Russia on resolving the conflicts only "if Russia's policy changes," meaning a reversal of its moves in the last few months.