Five injured in South Ossetia shootout
By Temuri Kiguradze
Monday, June 16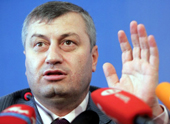 A shootout in the breakaway region of South Ossetia this weekend left several people injured as both sides traded accusations over how the incident began.
De facto authorities said fire from machine guns and grenade launchers came from the state-controlled villages of Ergneti and Nikozi late on June 14, injuring five people including two representatives of the de facto interior ministry.
De facto South Ossetian leader Eduard Kokoity told television station Rustavi 2 that the incident constituted an attack on Tskhinvali, the regional capital, and was a "sign that the Georgian side tries to solve the South Ossetian conflict by force."
He also warned that South Ossetia "has enough power to give a proper response to Georgia's aggressive actions."
Meanwhile, the commander of Georgian peacekeeping forces Mamuka Kurashvili said the shootout was sparked by the South Ossetian side, who opened fire on the state-controlled villages.
Georgian peacekeepers were "forced to open return fire" he said, adding there were no injuries on the Georgian side.
The news agency RIA Novosti reported that an OSCE vehicle was damaged in the firefight, but that none of its personnel were injured.
Georgian MP Shota Malaskhia said the incident was a "Russian provocation," and warned the South Ossetian side that such incidents would not "finish in a good way for them."
Meanwhile in Abkhazia, Georgia's other breakaway region, Russia claimed to have thwarted a terrorist attack on Russian troops there.
Russian Defense Ministry spokesman Alexander Drobishevsky said an anti-tank mine was discovered under a railroad that is currently being repaired by Russian military engineers.
"An attempt at carrying out a terrorist act has been undertaken against servicemen of the Russian Federation's Railway Forces," he said.
Russia says the railway engineers are unarmed and carrying out a humanitarian mission. Tbilisi, however, says they are preparing for an invasion.