Christian Democrat leader Giorgi Targamadze
By Eter Tsotniashvili
Monday, June 16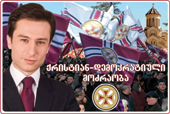 The Christian Democratic Movement has reached an agreement with the ruling party, paving the way for it to take up the seats it won in last month's parliamentary elections, following a second round of talks on June 12.
Christian Democrat leader Giorgi Targamadze said the agreement would give momentum to the opposition, which has been divided over how to proceed after the elections. He also said that once it is implemented, he would start "active work in parliament."
Parliamentary Speaker Davit Bakradze said the successful talks represented a "new standard, which is a standard of dialogue."
Early last week the Christian Democrats presented a memorandum that set out conditions for the party to take its seats in parliament, prompting talks with the ruling National Movement that were also attended by another small opposition party.
The resulting agreement includes a ruling party pledge not to amend the constitution without consulting the opposition. Holding nearly eight out of ten seats in parliament, the National Movement could easily muster the two-thirds support needed to effect constitutional amendments.
The ruling party has also agreed to "study and analyze" alleged violations during the elections, in response to the Christian Democrats' request for a formal investigation.
On June 13 parliament passed amendments to create an additional three vice-speaker roles, as well as an extra deputy chair post in each parliamentary committee, that will all be filled by opposition MPs.
Parliamentary Speaker Davit Bakradze said the move gives more power to the opposition and is in line with the Christian Democrats agreement.
However, the ruling party flatly rejected some of the memorandum's proposals, including a call for the direct election of regional governors and city mayors. These posts will continue to be appointed by the president.
Targamadze said the party had "no illusion" that all the points in the memorandum would be met, but that consensus had been reached on the main issues.
The agreement was not welcomed by other opposition parties however. The eight-party United Opposition coalition, which has refused to negotiate with the government, earlier dismissed the Christian Democrat talks as a "farce."
Davit Usupashvili, who leads the Republican Party, said the memorandum was a pretext for ignoring the parliamentary boycott that some opposition MPs-elect have pledged to undertake.
Meanwhile on June 13 twelve United Opposition members officially appealed to the parliamentary speaker to annul their MP status—in protest at what they say were rigged elections—prompting sharp criticism from the ruling party.
Ruling party MP Givi Targamadze described the move as the "peak of irresponsibility."
The Christian Democratic Movement, founded by Targamadze earlier this year, won six seats by placing third behind the United Opposition and the ruling party in last month's elections.