Environment Minister assures villagers no radiation threat
By Eter Tsotniashvili
Tuesday, June 17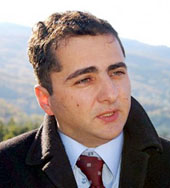 Yesterday Environment Minister Irakli Ghvaladze visited Adigeni district, in Samtskhe-Javakheti province, seeking to calm a health scare over what locals say are dangerously high radiation levels.
"This territory was examined before, and we just conducted more tests, and I can say that radiation levels are no higher than they should be," Ghvaladze said.
Local inhabitants have said that radiation traces left by a now-closed Russian military base has contaminated drinking water and is causing high rates of cancer and goiter.
"The radiation still has an effect on people—there is no harvest," Guram Mikeladze, a resident of Gorami village, told television channel Rustavi 2 yesterday.
However the Environment Minister insisted there was no cause for concern.
"There are no traces of [dangerous] chemicals. Drinking water is perfect," he said.
Some NGOs have also said that contamination in Adigeni poses a threat to locals and HRIDC, a Georgian human rights NGO, released a report on the matter late last year.
"A person will seem healthy but suddenly find out that he or she has cancer. Too many people are sent from our region to the oncology clinic," the report quoted one local resident, who lost her daughter to throat cancer, as saying.
A representative of another NGO, We, Greens, told the Messenger yesterday that the government has not paid proper attention to the situation in the region.
"The government should have taken tests in the area when the Russian base shut down, because it was highly polluted, but the authorities did not care," she said.
Yesterday, Rustavi 2 reported that recent testing by the ecological department, part of the Environment Ministry, showed the area to be safe.