Labor Party to renounce MP status, opposition coalition ponders next move
By Shorena Labadze
Tuesday, June 17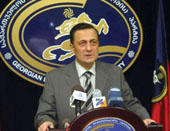 Four Labor Party members will renounce their MP status, party representatives said yesterday.
"The party decided to renounce the mandates long ago, but we made it official today [June 16]. No Labor Party members will enter parliament," party political secretary Giorgi Gugava told the Messenger.
Party leader Shalva Natelashvili said it was an "an appropriate response to the violence and fraud committed by the authorities during the elections," at a news briefing yesterday.
The Labor announcement comes days after twelve members of the United Opposition, an eight-party coalition, renounced their MP status, also in protest at what they say were rigged parliamentary elections last month.
However, Gugava said Labor has not yet decided whether it will coordinate its future activities with the coalition. "We'll make an announcement about that soon," he said.
Six MPs won seats in parliament on the Labor Party ticket, although two—neither official party members—have refused to partake in the parliamentary boycott.
Meanwhile the Republicans, who split from the United Opposition earlier this year, said they intend to cooperate with the coalition.
"Practically all the leading political parties have remained faithful to the decision [to boycott parliament]. We are ready to keep very active relationships with them to seek the ways out from the crisis Georgia currently faces," Republican leader Davit Usupashvili said yesterday.
Another Republican, Davit Zurabishvili, said consultations with the coalition are in progress on how to move forward.
"We have not worked on a final strategy about striving against the government. We are in the process [of this]," he said.
The Republican Party failed to gain any seats through party list voting, however two majoritarian candidates running on the Republican ticket won seats through single district voting. They subsequently refused to take part in the opposition boycott of parliament.
Yesterday, Usupashvili said that these two MPs would not represent the Republicans in parliament as they are not official party members. "They are majoritarian MPs and represent only their own regions," he said.
He added that the Republican Party plans to undergo a revamp in autumn, but declined to go into details.
Meanwhile United Opposition member Mamuka Katsitadze said that exactly how the coalition will proceed is still a matter of debate.
"Political processes must be developed outside the parliament building. This is our general method of approach. How the processes develop—whether we create an alternative political body [to parliament] or not, whether a new movement will form, these are all questions of tactics that we will decide on together," Katsitadze said.
He added that the part of the opposition which is refusing to take part in the boycott is not truly an opposition force.
"They simply call themselves the opposition figures," Katsitadze said.
Last week the Christian Democratic Movement reached an agreement with the ruling party that will see them take up their seats in parliament in exchange for a number of concessions aimed at giving more power to opposition parliamentarians.
Jondi Baghaturia—a former United Opposition member—justified his decision to take up his seat in parliament by saying that unanimous opposition approval of the boycott had not been reached.
"The key aim [of the boycott]—leaving the ruling party alone in parliament—hasn't been achieved. And now…I think it would be a missed opportunity if I refused to enter [parliament]," Baghaturia said.
Influential ruling party MP Givi Targamadze criticized the United Opposition figures who renounced their MP status.
"The irresponsibility of the United Opposition has reached its peak. It is their problem, not society's if they remain outside of the political process," he said.