Former prosecutor general says crime on the up
By Eter Tsotniashvili
Tuesday, June 17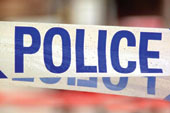 Last week former prosecutor general Gia Meparishvili said that crime has risen significantly in recent years while the percentage of cases being solved is decreasing. An Interior Ministry spokesman dismissed his comments however, putting an apparent rise in the crime rate down to inaccurate data before 2006.
Speaking alongside legal experts at a June 13 press briefing, Meparishvili said there were four times as many criminal cases in 2007 as in 2001, while the percentage of cases solved had halved.
Increasing crime rates, he said, is due to the socio-economic situation in the country, including a high unemployment rate and low incomes.
Lawyer Merab Turava, a lecturer who also spoke at the briefing, said the government's zero tolerance approach to crime and tough sentencing "is not the way out of the situation." He also said prison conditions require attention.
Meparishvili also said cases of juvenile crime increased five times between 2001 and 2007, and criticized a May 2007 law reducing the criminal age of responsibility to 12 years of age.
The law, which has attracted international criticism, is due to go into force next month. However, on June 6 the Committee on the Human Rights of the Child, a UN-linked body, said in a statement that it "deeply regrets" the decision and government officials have said its implementation will be postponed. Meparishvili doubted it would ever be implemented.
Government officials deny that the crime rate has increased as much as statistics seem to show.
Interior Ministry representative Shota Khizanishvili told the Messenger that pre-2006 data were not truly representative of the situation in Georgia.
He said that over half of crimes were not registered before 2006, adding that this accounts for the appearance of a "worrying" crime rate increase.
Khizanishvili added that serious crime in Georgia is in fact decreasing and that most crime now reported is theft or minor acts of hooliganism.
"While several years ago around 14 vehicles were stolen everyday, this figure is now two cars per month: this crime has reduced by about 98 percent," he said.
Meparishvili served as prosecutor general under former president Eduard Shevardnadze, from February to November 2001.