Georgian company to assemble US business jets
By Messenger Staff
Wednesday, June 18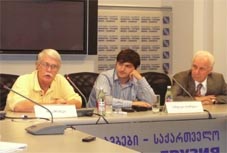 A Georgian aircraft manufacturer announced yesterday it has entered into a joint venture with an American company to produce jet planes.
Rick Schameck, the president of US aircraft company Epic, and Pantiko Tordia, president of Georgiaís Tbilaviamsheni, discussed the deal at a Tbilisi press conference yesterday.
Schrameck praised the professionalism of the Georgian designers and engineers.
The Georgian company will assemble Epicís elite model, a private business jet that seats six to eight passengers.
Tordia said the USD 2 million plane would attract businessmen wanting to upgrade their private jets.
The aircraft can be built within three to six months of placing an order.