Moscow: Removing Russian peacekeepers 'reckless'
By Temuri Kiguradze
Wednesday, June 18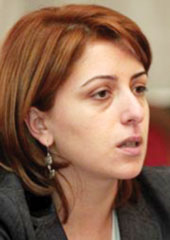 Moscow criticized Tbilisi's push to change the peacekeeping format in breakaway Abkhazia yesterday, prompting a swift counteroffensive from the Georgian government.
Andrey Nesterenko, a Russian Foreign Ministry official, said a "reckless" step to remove Russian peacekeepers from the breakaway region could increase tensions and unfreeze the latent conflict there.
The Russian peacekeepers had served to "cool down some Georgian political hotheads" who had planned a military incursion into the separatist enclave, he said.
Foreign Minister Eka Tkeshelashvili, speaking from Brussels, responded by saying that tension in the conflict region is caused by Russia's "behavior and plans."
She said the Russian peacekeeping mission there "does not bring anything positive to the situation."
Georgia has stepped up calls for a revision of the Russian-led peacekeeping format in its conflict regions in recent weeks after Russia moved to increase formal ties with the separatist regimes before deploying additional troops to Abkhazia.
On June 9, President Mikheil Saakashvili said the groundwork had been laid for Georgia to officially demand the withdrawal of Russian peacekeepers and that Tbilisi had informed the EU and United States of its position.
In a statement released earlier this week, the State Ministry for Reintegration Issues said a weekend shootout in Georgia's other breakaway region, South Ossetia, which left one dead and four injured, was further proof of the ineffectiveness of Russian peacekeepers.
"This recent incident, as well as others, has once again demonstrated the Russian peacekeepers' inability and unwillingness to perform their peacekeeping mandate, especially in terms of preventing armed incidents," the June 16 statement reads.