Opposition bloc on summer break
By Mikheil Svanidze
Wednesday, June 18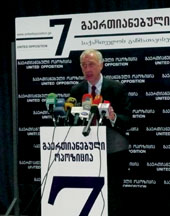 The United Opposition bloc hammered out ideas about its future yesterday before announcing a summer recess to ponder how to proceed.
The seven-party coalition took on unusually relaxed airs in comments to reporters after a group meeting, as leaders cracked jokes and swigged wine in celebration of a member's birthday. The mellow announcement of a summer break served as a soft close to nine months of rhetorically ferocious battle with the government.
The coalition has called for a boycott of the newly-elected parliament, and twelve of its members officially renounced their MPs' status last week.
One idea they discussed at yesterday's meeting was setting up a multi-party 'political center' akin to an 'alternative parliament,' a previous suggestion which drew controversy for its parallels to the political rifts in Georgia in the early 1990s which led to civil war.
United Opposition member Eka Beselia said the political center would comprise any party that considers itself part of the opposition.
The coalition is also considering a debating forum for civil society figures to sound out ideas, she said.
Konstantine Gamsakhurdia, the leader of the Freedom party, presented a five-point memorandum at the meeting which advocated an umbrella council to discuss strategy and tactics.
The memorandum says it should include all opposition parties, "regardless of the current United Opposition members' opinion of them," in an apparent overture to those opposition parties that have broken ranks with the boycott and taken up their seats in parliament.
Gamsakhurdia emphasized that the council should not be a single party with a single political leader.
Last week, two United Opposition members left the coalition, criticizing its current leadership as an internal "dictatorship."
Coalition member Zviad Dzidziguri said the United Opposition shared most of Gamsakhurdia's proposals.
"Operating in election [campaign] mode and operating normally are different and we share the idea that the [United Opposition] needs to be reorganized," he said.
However, leaders of the Republicans, which split from the coalition earlier this year, suggested they were not likely to rejoin a broad-based opposition bloc.
"I haven't read or heard about the memorandum, and, to be honest, it doesn't interest me," leading Republican member Tina Khidasheli told the Messenger.
At the end of yesterday's meeting, coalition representatives said they would take a summer recess.
"Summer is a politically dead period. We will take our time to work out our strategy and tactics for the fall," leading member Davit Gamkrelidze said.
He said more talks will be held with political parties that are not part of the coalition, in particular the Labor Party and the Republicans.