Amid poverty and unpopular policies, Kazbegi goes its own way
By Mikheil Svanidze
Monday, June 23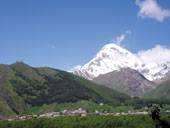 Kazbegi is no ordinary place. Largely isolated from the rest of Georgia, it has maintained its traditions and way of life between towering mountains and unrelenting poverty.
Its voting habits also mark it out for distinction. Kazbegi is the only district outside the capital to vote against the ruling party candidate in both the winter presidential election and last month's parliamentary poll. A Caucasian archetype of rugged individualism, the people of Kazbegi have tacked against prevailing political winds as regional trends push them further into the margins.
In January, more Kazbegi voters cast ballots for the main opposition candidate than incumbent Mikheil Saakashvili, who ultimately won nationwide with over half the vote. And last month, an influential local figure running with the Republicans, a moderate opposition party, eked out a slim victory over the ruling party candidate, a chief of the local border police.
He was one of just four non-government candidates to win, and the only one outside Tbilisi to beat a ruling party nominee.
Kazbegi's newly-elected MP, Roman Marsagishvili, spoke with me at his home in the village of Arsha, some four kilometers away from the administrative center of Stepantsminda.
"People vote on a personal basis here. They look at the candidate's past, his deeds. That's why people voted for me," said Marsagishvili, who goes by the first name Goderdzi.
A former athlete, Marsagishvili has earned goodwill in his home region by paying school fees for dozens of children and helping build local infrastructure.
"I'm an MP now, but I was born and raised here, have always taken care of the people and basically was doing whatever an MP should be doing," he said.
There is much to attend to. When the land border between Georgia and Russia shut nearly two years ago after a diplomatic row, Kazbegi was one of the districts hit the hardest.
For more than two centuries, Kazbegi was a waypoint along the Georgian Military Road going from nearby Vladikavkaz, in Russia's North Ossetia, to the Georgian capital. After the border closed in 2006, goods must make a much longer trip from Tbilisi, raising prices by half or sometimes even doubling the cost.
"Kazbegi had a strategic road [running through it], the Georgian Military Road. Now it has become a dead end, a big dead end," says Marsagishvili.
Kazbegi itself is in the western portion of the Caucasus mountain range. Home to the
Mokheve
, a Georgian mountain people, it boasts a natural grandeur and craggy landscape which have long attracted alpinists and, increasingly, casual tourists.
Marsagishvili says tourism development is one of his greatest priorities, but points to the need for better roads and infrastructure to get visitors to the Kazbegi. The trip from Tbilisi to Stepantsminda is about three hours by minibus, some of it bumpy.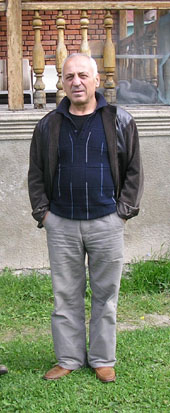 Kazbegi is Georgia's smallest district by population, with about 6 000 registered voters—a number surpassed by even some individual villages in Georgia. The tiny population comes with its own slate of needs and grievances.
The high altitudes—1750 meters above sea level for Stepantsminda, with most villages even higher—bring a harsh winter. For decades, the region's natural gas use was heavily subsidized, meaning heating was practically free.
"Having gas subsidies is essential for the people here due to severe meteorological conditions," says Marsagishvili. "The government has not taken that away from us, thankfully. If you do not subsidize the region, most of the population will emigrate."
But the Saakashvili administration has limited the subsidies to 600 cubic meters of gas a month for each household in the winter—100 in the summer—and locals are feeling the pinch.
"During winter, this is not enough. Sometimes we have to pay up to 200 GEL a month for gas, and who has that much money?" says Leo Sujashvili, who owns a small hotel in Stepantsminda.
What little cash there is comes mostly from retail tourism. Unemployment is obvious. Local men line the roads by day, sitting and drinking.
When asked what they think about the government, a group of unemployed men at the main square in Stepantsminda gave an angry and unprintable answer.
According to Kazbegi's deputy
gamgebeli
(local chief), Zaal Pitskhelauri, the unemployment rate is as high as 80 percent.
"Young people, naturally, don't want to stay in Kazbegi, so the demographic situation is terrible," Pitskhelauri said.
Many of Kazbegi's problems seem beyond local control; some are blamed on Tbilisi. The anti-incumbent mood was fed when the Saakashvili administration closed their winter greenhouses. The only major crop now is potatoes.
"The road closing is big politics, so neither I nor anyone from here has any influence on that," Marsagishvili says. "There were about 1 920 households in the whole district, and 600 greenhouses. Now they are all closed. People are irritated about the closed road and the shut-down greenhouses."
The greenhouses used large amounts of unpaid gas for heating, prompting a government decision to dismantle them all three years ago, offering a one-off compensation of 35 GEL for each square meter of greenhouse.
Another problem is the lack of pastures for sheep—
Mokheveebi
once took their sheep to winter pastures in Kizliar, Russia, but with the border closed they were forced to get rid of most of their flocks.
"There were about half a million sheep in Kazbegi district. Now there are about 20 000 to 40 000. People have to go as far as Rustavi to put them to pasture, and they can't afford that," said Leo Sujashvili, the hotel owner.
Dwindling reasons to stay in Kazbegi lead to heartbreaking sights like an old man boarding a minibus to Tbilisi, from a village 20 minutes outside Stepantsminda.
"Nothing to do here. So I go and get my bread and butter in the city," said the old man.
Despite the challenges, community leaders in Kazbegi say determination and a cheery front will see them through.
"Moscow wasn't built in a day," says the deputy
gamgebeli
, Zaal Pitskhelauri. "It's gradually getting better. We are optimists around here."