Georgian, Abkhaz leaders met in Sweden
By Mikheil Svanidze
Monday, June 23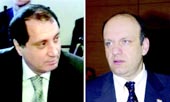 Georgian officials and leaders of the separatist Abkhaz administration met in Sweden last week for high-level talks, officials in Tbilisi have confirmed.
National Security Council chief Kakha Lomaia, who was at the meeting, said the Georgian officials came with proposals but were rebuffed by the Abkhaz delegation, which reportedly included their de facto foreign minister.
"We proposed concrete, peaceful plans for the resolution of the issues," Lomaia told reporters yesterday. He said the Georgians brought proposals on economic and social cooperation like free movement for civilians.
"But we didn't get a positive response for a single issue we raised," Lomaia said.
Another official present at the meeting, State Minister for Reintegration Issues Temur Iakobashvili, confirmed the meeting but said there were no negotiations.
"I confirm there was a meeting. It was a nice and warm meeting, but there were no negotiations," Iakobashvili told the
Messenger
.
The state minister said the meeting was put together by a Swedish NGO, which he declined to name.
The talks, apparently intended to be held quietly, were first made public when EU foreign policy chief Javier Solana praised the Georgian-Abkhaz meeting in a June 19 press release, reported by online news source Civil.ge.
"[Solana] welcomed the recent direct talks in Sweden between Georgian officials and Abkhaz representatives and he underlined the importance on maintaining the direct dialogue between Tbilisi and Sokhumi," reads the press release received by Civil.ge.
Direct peace talks between Georgian and Abkhaz officials stalled after a Georgian operation to regain control of Kodori Gorge in July 2006.
A small, long-lawless sliver of Abkhazia, Kodori Gorge was home to a local warlord who announced an insurrection two years ago, prompting what Tbilisi termed a police action to retake the area.
The Georgian government later installed a state-backed Abkhazian government-in-exile in the gorge. Russian and Abkhaz officials have accused Georgia of deploying troops in the area, but UN observers say they have found no evidence of a buildup.
Separatist Abkhaz officials say Kodori is rightfully their territory, and some have threatened war over the gorge.
"Kodori Gorge is our territory and—whether someone likes or not—eventually we may have to resolve this issue with use of force; unfortunately I don't see any other solution," de facto Abkhaz vice-president Raul Khajimba told Abkhaz reporters on June 20.