Elections over, police reinforce unpopular laws
By Temuri Kiguradze
Thursday, June 26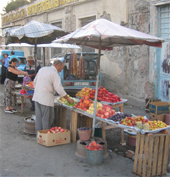 This week, police pushed out hundreds of unlicensed street vendors from a central market in Tbilisi. Angry evictees blockaded a street in impromptu protest, leading to fights with police that left several demonstrators hospitalized.
The day before, police booted out street vendors from the capital's second largest market, and shuttered newspaper stands in Saburtalo district. Street vendors are just one breed of Georgian entrepreneurs who routinely break rules on when, where and how they can do business—but for months, police had tolerated a range of petty lawbreaking.
This month's end to the lenience, said vendors, shopkeepers and others affected by the crackdowns, has a simple explanation: the election campaigns are over.
Lawmakers banned street trade in Tbilisi soon after the 2003 Rose Revolution, saying it is unsanitary and harms the capital's image. The decision was met with intermittent protests, but over the course of a few years street vendors disappeared from Tbilisi's main thoroughfares.
Vendors who wanted to keep their jobs moved into enclosed markets, where they paid daily stall fees and used cash machines to appease the taxman, another innovation for Tbilisi. Those who sell second-hand goods, or even valuables from their own homes after falling on hard times, said their turnover is too low and their profit margin too slim to survive if faced with fees and taxes; there were regular protests at City Hall to demand the rules be rewritten.
But the law was on the books, and the police took action. Last August, squad cars swooped in on Tbilisi's landmark Dry Bridge, shooing away the mostly elderly and uniformly poor vendors.
"One day several police patrol cars came and told us to go away," recalls Karen Gasparyan, who hawks used electronics at the Dry Bridge market.
Gasparyan and his colleagues hid their goods from the police and sold them on the sly in a nearby park, occasionally getting the boot from police.
Then, several weeks before the January presidential election, the rules relaxed. Word spread—among trinket sellers chased from Dry Bridge, grocers evicted from impounded food markets—that no one was stopping them from returning to their old spots.
The director of the major Navtlugi market, Shota Ituridze, told the newspaper
Sakartvelos Respublika
this week that in January police looked the other way as street vendors "one after another" returned to their former venues.
The ban on street vendors is just one of many unpopular, reform-minded new regulations. In 2007, a traffic law banned passengers from standing in the ubiquitous minibuses, called
marshrutkas
, which ply the city streets.
Marshrutka
driver Merab Kviria estimates the rule roughly halved his daily income by limiting the number of passengers he could pick up. But since the beginning of this year,
marshrutkas
passengers have been allowed to stand without reprimands from police.
Drivers and street vendors weren't the only ones to catch a break. Some voters in Tbilisi also won a brief respite from utilities bills. During the presidential campaign, the main gas distributor in the capital, KazTransGaz, instructed its employees "not to bother residents" with gas bills, according to one of the company's technicians, who requested anonymity out of fear for his job.
But soon after the January 5 election, at least some Tbilisi residents received delayed bills, costlier than usual to cover the campaign grace period.
Business owners also noticed a spell of lax enforcement. Iza Darchiashvili, who runs a small shop on Tbilisi's Pushkin St., says financial police inspected her till records at least once a week before the presidential campaign—but inspectors didn't show up for several months after the January election.
After last month's crushing government victory in parliamentary elections, the inspections restarted. Darchiashvili now sees financial police on the same regular basis she did last year.
Darchiashvili and other interviewed shopkeepers all agreed that the temporary leniency, and return of enforcement, were timed around this year's two elections, which were both critical for the Saakashvili administration.
Political analyst Gia Khukhashvili says there is no question the quiet leniency was a vote-winning tactic in the election campaign, as the government tried "to seem humane."
After the elections the lenience "became unnecessary," says Khukhashvili.
Shota Khizanishvili, a spokesman for the Interior Ministry, which oversees all Georgian police, says there is no truth to that.
Enforcement "has never been paused," he said, and stamping out illegal street vendors is being done "gradually."
No matter the timing, it is clear that the rules won't be ignored indefinitely.
Gasparyan, the Dry Bridge vendor, is back to selling his second-hand microphones and cassette players at the same place he was three years ago—but with the return of police crackdowns, he says he is sure he "won't last here for long."